We are talking about engaging content ideas that drive traffic and how you can implement them, easily into your content strategy.
Let's get started!
Brainstorming fresh, engaging content ideas that drive traffic consistently can be really tough.
Even the world's best content creators struggle to come up with evergreen content ideas that make their websites stand out.
While part of the reason for this is that cyberspace is so densely saturated.
It's also really easy to repeat the content formats that have worked for us in the past.
To help you break out of this loop and explore the wide range of content options that are out there, we've compiled a comprehensive list of content formats.
Let's get inspired to try something new!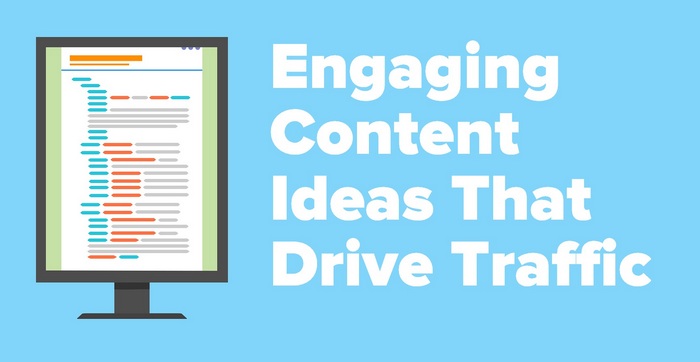 Engaging Content Ideas That Drive Traffic – Pro Tips For Great Content
Before diving into all of the options available to you, it's important to make note of what has worked in the past.
Borrowing from the success stories. Here are some elements you'll want to incorporate into any piece of content you make, regardless of format:
Originality

: You want to make sure that your piece adds something new and valuable to the topic. If the topic's been covered before, frame it in a new light or consider adding an artistic touch.

Compelling headline:

The headline is the first thing your users will see—make it count! There are several ways to make headlines pop, from shock value to effective storytelling. Choose whatever best fits your audience.

Visuals and interactives

: Scrolling through large chunks of text can make for a dull user experience. By interrupting paragraphs with visual assets, your readers will be more inclined to stay on your pages.
Join the conversation - In this new article, we are talking about engaging content ideas that drive traffic.
Click To Tweet
Types of Blog Content
Blogs have come a long way since the days when blogging essentially just meant sharing your personal journal entries online.
Now, blogs are incredibly powerful tools that businesses can leverage to become authoritative, trusted sources of information in their industries.
Let's explore some blog formats you can use as content ideas that drive traffic that will impress your audience.
1. Long-Form Blog Posts
Long-form blog posts are the one-stop-shop for everything you need to know about a topic.
They often take the form of comprehensive guides that not only provide in-depth answers to a user's question but also explore tangential topics that a user might be curious about.
Long-form posts are also a great way to include several keywords relevant to a topic in one piece.
These posts are often used by SEO experts to generate backlinks and drive significant traffic to a company's website.
Be careful not to go too long though. If you are getting too wordy then you may want to consider splitting your posts into multiple pages and exploring the opportunities that pagination offers.
2. Short-Form Blog Posts
Sometimes, the answer to a user's inquiry doesn't require several paragraphs of text.
The key to short-form posts is to answer the main question your users have right off the bat.
Consider piquing the interest of your users with a supplemental resource, like an infographic.
If you're wondering whether a short- or long-form post would best fit a topic, just plug the topic into a search engine and check what others are doing.
This will give you a good idea of what content format that users and search engines are interested in seeing.
3. Listicles
The listicle format is a favorite among content creators looking to simplify information for readers.
This format gives readers the option to either read about each listed item in-depth or to just skim through their options and gather a little inspiration.
One pro tip for making listicles successful is checking to see what the front page of the search engine is showing for that topic and adding more tips than the post with the most tips.
For example, if the post with the most items has 20, go for 25!
Of course, it's important not to sacrifice writing quality for the sake of adding more items to your list.
Types of Video Content
In the digital age, video content is booming.
Not only is it highly engaging, but it can also be added to nearly any digital platform—social media, blogs, you name it.
While there are countless video formats that can be used as powerful marketing tools. Let's take a look at a couple of popular ones.
4. Product Demo Videos
It's important for people to know that what they're buying is a high-quality product.
What better way to showcase this value than giving potential customers a sneak peek?
Video content is the number one content type that marketers use to sell their products and services, so it's important not to miss out on this opportunity.
Whether you're a business owner trying to sell your own product or an influencer being paid to advertise another company's product, demo videos are a great way to add a little human connection to your marketing efforts.
5. Vlogs
Vlogs, or "video blogs," are short videos about a topic.
They've become incredibly popular in the tourism industry, as they give potential customers a glimpse into their dream travel destinations.
Vlogs are a great way to show some personality and to get users excited about what you're talking about.
Types of Visual Content
The human brain is incredibly powerful, but it can only remember so much written and verbally communicated information.
More often, we're captivated by fascinating visuals that employ colors and illustrations to tell a story.
In fact, when information is paired with a relevant image, people tend to retain 65 percent of the information presented, as opposed to only 10 percent of heard information.
6. Data Visualization
There are several ways to creatively illustrate data, from diagrams to graphs to charts.
It's far easier to digest complex information when it's color-coded and made into a geometric illustration than when it's in paragraph form.
7. Infographic
Infographics are not only a great format for creatively presenting a lot of information, but they can also be effective tools for link-building outreach.
Small blogs are often on the lookout for engaging content to share with their users, so offering to share your infographic with them in exchange for a link to your site is a pro outreach strategy.
Of course, creating high-quality infographics will likely require a team of talented designers, so be sure that you know the resources you have at your disposal before pursuing a specific content format.
Types of Interactive Content
Interactives go one step further than visuals in captivating the attention of your users and making them feel involved in your content.
However, they tend to demand more manpower on the development side than other content forms, so this may be a content type you work toward as you grow your company and its resources.
8. Polls and Surveys
Secondary research can be incredibly valuable to guide your marketing efforts, but much of the data that's already out there is outdated and may not be totally aligned with your company's specialty.
Polls and surveys don't only engage your users by making them feel like their opinions are valued, but they also provide you with valuable information for more targeted marketing efforts.
If the results are shocking or fascinating, you may be able to turn this survey into a blog post that captures user attention.
9. Interactive Calculators
Interactive calculators allow users to input values and receive an answer to their inquiry.
When making a decision, whether how much to save for retirement or how much to tip at a restaurant, offering a calculator with a specific purpose can go a long way to help users.
Of course, it's important to only make calculators that are related to your company's specialty rather than trying to dominate the calculator format in every industry.
Doing so could confuse search engines and cause them to see you as less authoritative in your own industry.
10. Idea Generators
Brainstorming ideas for anything, whether it be a company name or name for a new baby, can be a challenge.
While idea generators can be expensive to create, they deliver unique value to users and give them an incentive to interact with your post.
Including an idea generator related to your industry may also help search engines see you as an authoritative player.
Types of Social Media Content
Social media has revolutionized the way companies do marketing.
With people of all ages populating nearly every social media platform, it's important to take advantage of this vehicle to drive traffic to your company's website and money pages.
11. Live Streams
Live streaming involves sharing a video in real-time.
Often, the platforms with a live streaming option also allow streamers to interact with their audience via virtual chat.
This is a great way to connect with users on a personal level. Give them an opportunity to ask questions or share their appreciation.
12. Clubhouse
Clubhouse is an audio-based social media app founded in 2020 that allows people to discuss topics of interest together.
It essentially serves as a real-time and interactive podcast for learning new things and networking.
Since social media is such a new and growing industry, it's important to stay up-to-date on all the latest apps to meet users where they're at and to be prepared for what's next.
There's no shortage of content formats that you can utilize to effectively communicate with your user base and become an authority in your industry.
Whichever formats you choose, just make sure that you have the means to make them happen and that they're relevant to the industry you're operating in.
That's all for now.
So do you struggle to find engaging content ideas that drive traffic?
Have you used any of the ideas listed in this article?
Did we miss anything?
Let us know in the comments section below
Regards Dexter
Summary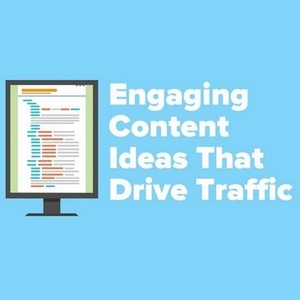 Article Name
Engaging Content Ideas That Drive Traffic - PRO Tips For Great Content
Description
In this new article, we are talking about engaging content ideas that drive traffic and how you can implement them, easily into your content strategy. Let's get started!
Author
Publisher Name
Publisher Logo