Today we are talking about how plugins can impact your site's speed and show you an example of how to optimize Yoast SEO for site speed.
Let's get started!
Yoast SEO has become an incredibly popular WordPress plugin for optimizing WordPress for SEO and rightly so for very good reason.
Yoast regularly updates its plugin to stay ahead of the competition often adding new features.
But over the years Yoast has become bloated with features that are nice to have but are they really necessary for SEO optimization.
Adding Plugins can slow down WordPress. So it is key to manage your plugins and to only add plugins that are really needed.
Yoast is a needed plugin but does add some bloat to your site but you can fix this very easily.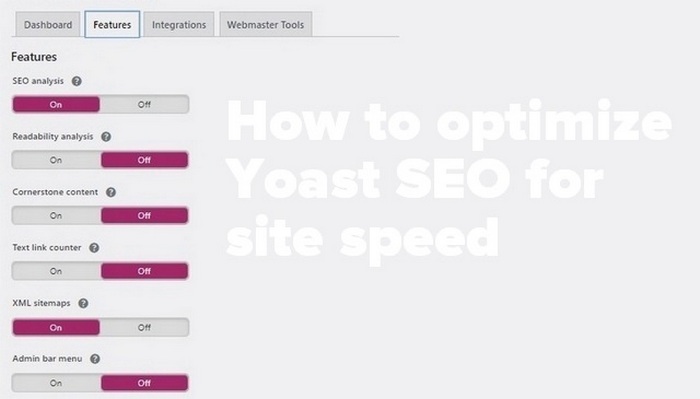 Optimizing Yoast SEO for site speed
As mentioned in our introduction Yoast does have some nice features the big question is do you need them all.
For example, do you need the Yoast readability feature or its Cornerstone Content feature? Probably not.
The good news is that Yoast allows you to disable functionality, cutting site bloat, and speeding up your site.
Cutting some of Yoast's functionality is not going to make your site lightning fast but it will cut some of the drag that Yoast places on WordPress. 
To really see useful speed gains you must optimize as many of your plugins as you can
Here is how to optimize Yoast SEO for site speed
Do you need features like Readability and Cornerstone Content? If not, switch them off.
Go to your Dashboard and then to SEO
Click on Features and review the Yoast Features that you have turned on
Switch off unnecessary features
Click save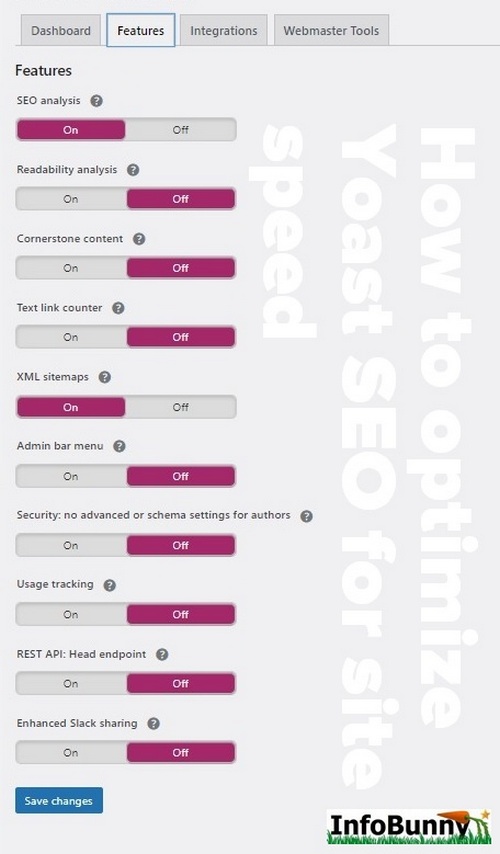 The readability feature is a good feature for checking how well your text is seen and understood and offers you optimization for sentence length and paragraph length all of this is very useful.
When you need to make these optimizations then switch the feature on and then when complete switch readability off again.
That's one of the benefits of Yoast, you can switch features on and off when needed, and doing so does cut site bloat and help speed up your site.
Join the conversation - Today we are talking about how plugins can impact your site's speed and show you an example of how to optimize Yoast SEO for site speed.
Click To Tweet
Takeaways
Optimizing Yoast for site speed is not enough to make noticeable speed gains on your site.
But if you apply the same principle of just turning off features on other plugins that you don't need or even just disabling plugins that you don't need all the time the combined gains can be enough to make a difference.
Broken Link Checker is another example of a plugin that really adds load to a WordPress Site.
Do you really need to check for broken links all the time?
Is it a plugin that can be disabled and enabled now and then to catch dead links? It's what we do at Infobunny.
We know that load times and site speed is becoming incredibly important for site rankings.
Optimizing plugins where possible is something really easy that any blogger can do without having to be technical or having to call a developer.
That's all for now!
Do you optimize your plugins for speed?
Let us know in the comments section below.
Regards Dexter 
Summary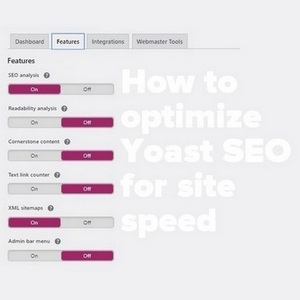 Article Name
Optimize Yoast SEO for site speed - Simple Tips To Speed Up WordPress
Description
Today we are talking about how plugins can impact your site's speed and show you an example of how to optimize Yoast SEO for site speed
Author
Publisher Name
Publisher Logo