If you are struggling to build backlinks to your site then this is the article for you, we explain why your current link-building strategy is failing and how you can fix it.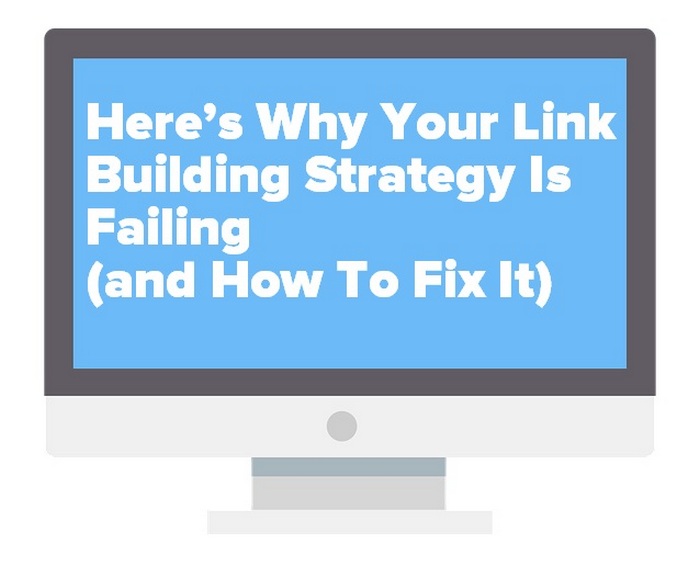 Here's Why Your Link Building Strategy Is Failing (and How To Fix It)
Ask anyone who knows a thing or two about getting a page to rank and thus boost its visibility, and they'll tell you that link building and having a good link-building strategy is essential.
Building links is one of the prime ranking factors, with search engines using backlinks to determine how trustworthy, user-friendly, and awesome a website is and that is why a good link-building strategy is so important for your site's SEO.
The thing is, you've got a problem.
While other websites are putting together successful link-building strategies, yours is failing.
You're still not ranking, your rivals are way ahead of you, and your links suck.
Damn.
Like with anything in life, there's always a reason behind a problem.
In this article, we take a look at what you might be doing wrong – and we'll also be showing you how to fix things.
Ready? Let's do this.
You've Got A Lopsided Link Profile
Google wants you to maintain a natural-looking link profile.
However, many online marketers fail in this endeavor.
And it could be that you've overlooked its importance, too.
If a new website has a backlink profile that's entirely made up of just one type of link, Google will get suspicious – and they might even penalize you.
If you obsess over either third-party link metrics or domain authority, you might end up with an unnatural link profile that catches Google's attention for all the wrong reasons.
A diverse link profile should have backlinks coming from different sources.
These include blogs, directories, reference pages, and even news sites.
If you've got a lopsided link profile, and if you haven't yet tried to diversify your link portfolio, here are a few tips:
Don't aim for just high DA websites
It's common advice to online marketers that they should only aim for high DA links.
The problem with this is that you're playing a high-stakes game and cutting out lots of other link opportunities.
You're focused on the top percentile, and you're not going to win them all.
Always keep in mind that low DA websites don't always stay low DA; some grow and become high DA.
The opposite is true, too: Some high DA websites become low DA websites. We all know a good link when we see it.
Don't pass the opportunity over just because you're only focused on high DA links.
Politely ask for a link from blogs that have already mentioned you
Brand mentions are really cool, but they're a lot cooler if they come with a link. Use your SEO tool to look for brand mentions, before politely asking the webmaster if they'll include a link with it.
Directories
Directories come in handy for local SEO, but they're also a good way of diversifying your link profile.
It's a smart idea to get yourself on directories like FourSquare and Yelp, as these kinds of sites will provide you with a relevant link.
Join the conversation - Does your website have a lop-sided link profile? Here is how you fix it.
Click To Tweet
Another reason you might have a lopsided link profile is …
You're Repeating The Same Anchor Text Over And Over
Anchor text is the phrase placed over the clickable link.
If I'm linking to an article about improving one's productivity, the anchor text I might use would be "enhance your productivity."
Each time you add a backlink to your website, you have to use anchor text.
A few years back, SEOs learned that anchor text matters when it comes to ranking for queries.
This is because Google uses it to determine how relevant your link is to the webpage content.
The problem is that if you're linking to the same page over and over again, you might also be guilty of using the same anchor text over and over again.
If so, this is a practice that needs to stop.
How come? Because you're at major risk of being penalized.
It's good practice to even up your distribution.
Take a look at the anchor texts you've used so far.
How varied are they?
What's their distribution like?
If you've used 20 different anchor texts so far, but you've used one of them 10 times already, you need to consider how you can mix things up.
If one particular anchor text is used this much, it's going to trigger the search engines into an investigation.
A good rule of thumb to stick to is to diversify your anchor text profile like this:
Keyword optimized terms

Branded terms

Unoptimized terms
How you balance it out is up to you.
Your branded terms might, for example, make up 50% of your anchor text distribution, while the other two split the remaining 50% between them.
On the other hand, if you're a relatively new business that's on the hunt for more organic traffic at this point, you might want to reduce branded terms to 25% and instead focus on keyword-optimized terms more.
Either way, you need to mix things up.
If you're still unsure how you can keep mixing things up, take a look at your competitors and what they're doing.
See how many keywords they're aiming for, and how many times they use each variation.
You Chased Too Many Links Too Fast
Although chasing links is a lot less glamorous as chasing money, the end results are often the same if you go too fast.
In short, you end up penalized by Google and you're left with a burnt-out website.
See, when new websites chase too many links too soon, it says to Google that something fishy is going on.
It says that they're trying to game the system by employing back hat SEO techniques.
It says they're more focused on profit than they are on building quality relationships with their audience and improving the user experience.
And most of the time, Google is probably right.
Look at it this way.
If I launched a new website and knew nothing about SEO, I wouldn't start a link-building strategy where I chase links.
Instead, I'd be 100% focused on producing quality content that establishes my business as something people can trust and will want to buy from.
Over time, because I've got my priorities right, the links will come naturally.
On the other hand, if I put links first and content second, the links might come (though they wouldn't always be of the best quality), but my content would suffer and that is an example of a really bad link-building strategy.
As a result, I might end up with lots of money at first, but I would ultimately be found out – by both Google and my target audience – and I would fade away.
'Link velocity' is very real, and you have to take things slowly at first.
The problem as I see it at this point is that no one is quite in agreement with regards to how many backlinks are too many.
However, there's a fabulous resource for this, in which the suggestion is that 2-3 new backlinks per week per article are what you should be aiming for.
On the other hand, the article also suggests that as many as 100 backlinks per day won't see you fall foul of a penalty.
Basically, just use your common sense and take a look at what your rivals are doing.
If it seems to you that you're collecting links at an unreasonable rate, you probably are.
Oh, and you should probably avoid setting up 10,000 low-quality backlinks in one day, too.
Here's Why Your Link Building Strategy Is Failing - You chased too many links too fast.
Click To Tweet
You're Creating The Wrong Type of Content In Your Link Building Strategy
Imagine if you've got lots of short-form (500 words or less) blog posts.
They're pretty generic, cover topics your competitors have already covered … and still, you're not building links?
I think you may well have answered your own question.
We'll get into the importance of creating in-depth articles in a bit, but for now, if your website is only made up of generic short-form posts that don't really offer much, you need to start diversifying your content marketing efforts.
Essentially, you need to create more of the right content.
Killer links come from killer content – content that's different from anything your rivals have got, and which offers something unique and even surprising.
Take visuals, for example. Visuals boost engagement, and while you might be protesting that you already "include stock photos with my articles," I'm talking about visuals that go the extra mile.
Think charts and infographics.
These are the types of things that bring together lots of information into one neat-looking place.
They inform your audience, and they're easy to digest.
Not just that, but they're also easy to link out to and are a must for your link-building strategy.
Think about it like this.
There are lots of other websites in your niche that rely on stats and research to back up their points.
They love linking out to infographics because it boosts their own credibility.
The caveat is that they're too lazy to create the infographics themselves.
So what do they do?
They link out to websites like yours!
Here's an excellent tool that will help you create an infographic in just 5 minutes.
Another thing:
If your content is just plain dull, you're going to struggle for links.
If it's hard to read, poorly presented, and lacks even a sub-heading or two, the links won't come.
To jazz things up, I suggest going with more list posts.
According to BuzzSumo's research, list-based posts generate more traffic than any other type of post.
And with more engagement and more traffic comes more link opportunities.
Boom.
Essentially, it's all about creating content that's different, unique, and a bit surprising.
Carry out your own research instead of relying on other people's research.
And also, consider this next point …
Your Content Just Isn't Valuable Enough
Especially if you're in the game of guest blogging in order to build more links, you'll know that content is king.
But is your content valuable enough to be king?
Or is it a mere court jester?
Google is on the lookout for valuable content that improves the user's experience.
It prefers long-form content (800+ words) to short form, and it wants you to offer in-depth solutions to your audience's problems.
It wants you to have the answers they need.
Not just this, but long-form content gets shared more than short-form content.
As such, you can see that long-form content = more link-building opportunities and should be part of any good link-building strategy.
It doesn't end there either.
Your content needs to be different from your competitors, and it needs to better than your competitors.
Brian Dean at Backlinko wrote an excellent piece on the Google Rank Brain algorithm, and what essentially happens is that internet users recognize when a piece of content is super valuable, and they subsequently help it to rank.
How do they do that?
If a user lands on your page and realizes within 3 seconds that you've not got the answers they need, they'll bailout.
If this keeps happening, Google will realize that your content just isn't good enough, and as such, you'll slide down the SERPs.
On the other hand, if your users arrive at your content and realize you've got what they want, they'll stick around.
Their time spent on your page will increase; Google will notice this, assume your content is valuable, and they'll bump you up the rankings.
All this is valuable stuff.
The higher you are in the SERPs, the more link-building opportunities there will be.
And it all starts with top-notch content that goes the extra mile.
If you're perspiring at the thought of having to create lengthy articles, just take a look at similar content produced by your rivals.
Then, look for any weaknesses in the content – what key points have they missed?
Perhaps their article isn't up-to-date?
Look for ways to improve and build on their content, and then execute.
It's also a good idea to come up with fresh topics that concern your audience, but which your rivals haven't yet picked up on.
You can ask your audience directly on social media what their pain points are and what they want to see content on.
Quora is a great question and answers social that you can leverage for this reason.
It is also great for driving organic traffic to your site 😉
Your Outreach Campaign Lacks the Personal Touch
Lastly, if you're running a blogger outreach campaign that's just not working at all, you might want to take a look at your approach.
I mean, I get it: Reaching out to bloggers all the time is exhausting.
It's also disheartening when you either don't hear back, or you do hear back – but then your article is later rejected anyway, even after you've written it!
But this is why I recommend that you make your outreach campaign more personalized.
This doesn't mean simply referring to the webmaster by their name and telling them how much you love their blog.
It means doing much more than that. It means building actual proper relationships.
This will take time, and it's a good idea to put together a small team specifically for your blogger outreach efforts.
I would spend time getting to know the blogger on social media – engaging with their posts – and really getting to know them and their website.
Then, I would work my information into my template so that it's personal and unique to them and their needs.
And always remember to make this about them as much as you make it about you.
What do they stand to gain from the relationship your building?
How will you post on their website benefit them and their audience?
Here's Why Your Link Building Strategy Is Failing (and How To Fix It) – Takeaways
To sum up, link building doesn't have to be difficult.
We make it hard by chasing too many links too soon, and by exhausting ourselves with bloggers who aren't interested in our salesy pitches.
If you relax a bit and put quality content and proper relationships first, the links will come.
People will see that what you're doing is amazing and they will start to engage and work alongside you.
That's all for now!
So do you have a link-building strategy?
What is it that you do to build quality backlinks to your site?
Let us know in the comments section below.
Make sure that you subscribe to the comments section so that you are notified when we reply
Regards Kas
Related Articles

Latest posts by Kas Szatylowicz
(see all)
Summary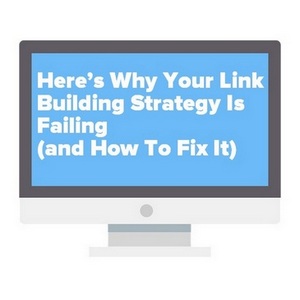 Article Name
Here's Why Your Link-Building Strategy Is Failing (and How To Fix It)
Description
If you are struggling to build backlinks to your site then this is the article for you, we explain why your current link building strategy is failing and how you can fix it.
Author
Publisher Name
Publisher Logo