So we are hearing a lot about Dwell Time and how we should be optimizing for dwell time SEO.
But what is it and how do we optimize for dwell time?
Well here is how you do it.
Ok, so I want you to close your eyes,
Slow your breathing as you gently count down from 100 and know that you are safe in this environment.
And as you count down know that you are reading one of the best articles that you have ever read and that you're going to stay on the page until the end and then write an incredible 500-word comment.
Then your not going to bounce you are going take advantage of my internal linking structure and move to another great post of mine all while you increase my dwell time and time on page.
When I click my fingers you will awaken feeling fresh and ready to improve my dwell time
3-2-1 and your back in the room 😉
So you may think that I am messing around and yes, of course, your right. But if you do want to optimize your dwell time and improve time on page then you do need to hypnotize your visitors with great content. Great content that answers user-intent.
In this article, I will be offering you some really simple ways to optimize for dwell time.
Explaining the differences between dwell time, time on page and bounce rate. And i am going to offer you this with an easy common sense approach.
There will be no dwell time formulas, no how to calculate dwell time answers or dwell time calculation, just good easy to digest information to help you improve your dwell time SEO.
Dwell time, time on page, bounce rate. What is the difference?
There is quite a lot of confusion surrounding the differences between dwell time, time on page and bounce rate.
So let's give a brief explanation of each of these ranking factors.
1/ Dwell time
Dwell time is the time that passes from when you click a search result and visit a page up to the point that you then return to the search results.
2/ Time on page
Time on page is the amount of time a visitor spends on your page before going anywhere else.
This could be back to the search results, to another page linked on your website or anywhere on the web.
3/ Bounce rate
Refers to visitors who only visit one page before leaving.
It doesn't matter if they stay 2 seconds or an hour if they don't go anywhere else within your site it is classed as a bounce.
Bounce rate is often seen negatively and yes a 2-second visit and out is quite a negative signal.
But if someone visits and stays 10 mins and then bounces out well its still a bounce.
Does Google view this act as a negative signal?
The ideal scenario
Of course, a 10-minute bounce is not a bad thing but you will be well advised to set up a great internal linking structure to guide visitors to other pages within your site
The ideal scenario is that you just want to keep people on your site for as long as possible.
And this is why I don't bother with dwell time formulas and time on page calculations and all the stuff that will drive you crazy and just waste the valuable time you have that you should use creating great content.
Just trust that it is all about your content.
Make it as good as you can.
Link relevant posts within your site and keep visitors on your page.
Here are 10 ways to optimize for dwell time and improve your Dwell Time SEO
1/ Create great content
It is not going to surprise you that it really is all about your content.
If your content is well written, looks good and answers user intent then visitors will read your article.
They will stay on your site and your dwell time will improve.
If you are looking to optimize for dwell time and improve your sites SERPs then improve your content.
2/ Page design
You have great content but if it translates to the reader poorly then they will just leave.
Optimizing for UX (User Experience) is key to keep people on your site and to improve your dwell time and time on page and also to reduce your bounce rate.
Keep your paragraphs short, around 300 words max. Keep your sentences short.
And use lots of negative space
Related Article
3/ Choose the right keywords
You need to attract the right kind of visitors so research keywords that best serve your article. 
I have written before about keyword research before and how to optimize for multiple keywords.
It is easier than you think when you are writing good long-form content.
Here is how you do it – How to optimize for multiple keywords
4/ Use a Mobile Responsive theme
Using a mobile responsive theme ensures that your content looks great on all formats.
Desktop, mobile, tablet, responsive themes resize your content so they look great no matter what.
Infobunny runs on the Virtue Premium theme by Kadence which is a premium theme. 

Kadence Membership is great value for money and offers you access to all their premium themes and additional plugins that they create specifically for their themes.
5/ How fast does your site load?
The speed that your site loads is crucial particularly for the mobile user experience.
If a site is just too slow to load then your visitors will bounce out and find another site that will answer their user intent.
We had a recent guest post by Ronald Segura all about speeding up your WordPress site
6/ Internal Linking
It is a must to have a good solid internal linking strategy for good SEO. 
If someone lands on one of your pages and it is not quite what they are looking for then offer them access to other pages that may answer the user intent better.
Keep people on your site as long as you can.
7/ Bucket brigades
Some visitors tend to skim pages when reading to find the answers they are looking for. 
Bucket brigades are small text sentences that appeal to those who skim leading them on to read the article.
They are designed to make you stay where you are and read.
Bucket brigades work best when they introduce something that is useful to the reader or in some way let the reader know that you are answering the question and user intent as to why they are visiting.
They are key to increasing blog engagement because they do keep readers on your blog longer. This often leads to more blog engagement, comments, shares and even backlinks to your content.
Examples of Bucket Brigades :
"Make sure you read to the end"

"We saved the best till last"

"There is still more to come"

"Look"

"Here is the answer"

"So the big question is?"
These little text snippets of text stand out just like headlines keeping visitors on your page and helping to improve dwell time.
8/ Rich content
No one likes a great wall of text.
Adding images and videos helps to break up text and can qualify your content.
You can also optimize rich content for SEO particularly images, by adding images descriptions and tags so that search engines know what they are looking at.
9/ Offer sharing options
While your visitors are sharing your content on their social channels they are not bouncing out of your site.
So offer lots of good sharing options. Facebook, Twitter, Pinterest, make all the main social sites available for readers to share to
10/ Blog comments
Encourage blog commenting.
While someone is engaging with your site and writing a good long comment they remain on your page and this improves dwell time.
Let's say someone takes 5 mins to read your post then another 5 mins adding a comment. Well, that's 5 minutes of bonus dwell time. 
Encourage them your readers to subscribe to comments so that when you reply to their comment they are notified and come back to continue the conversation.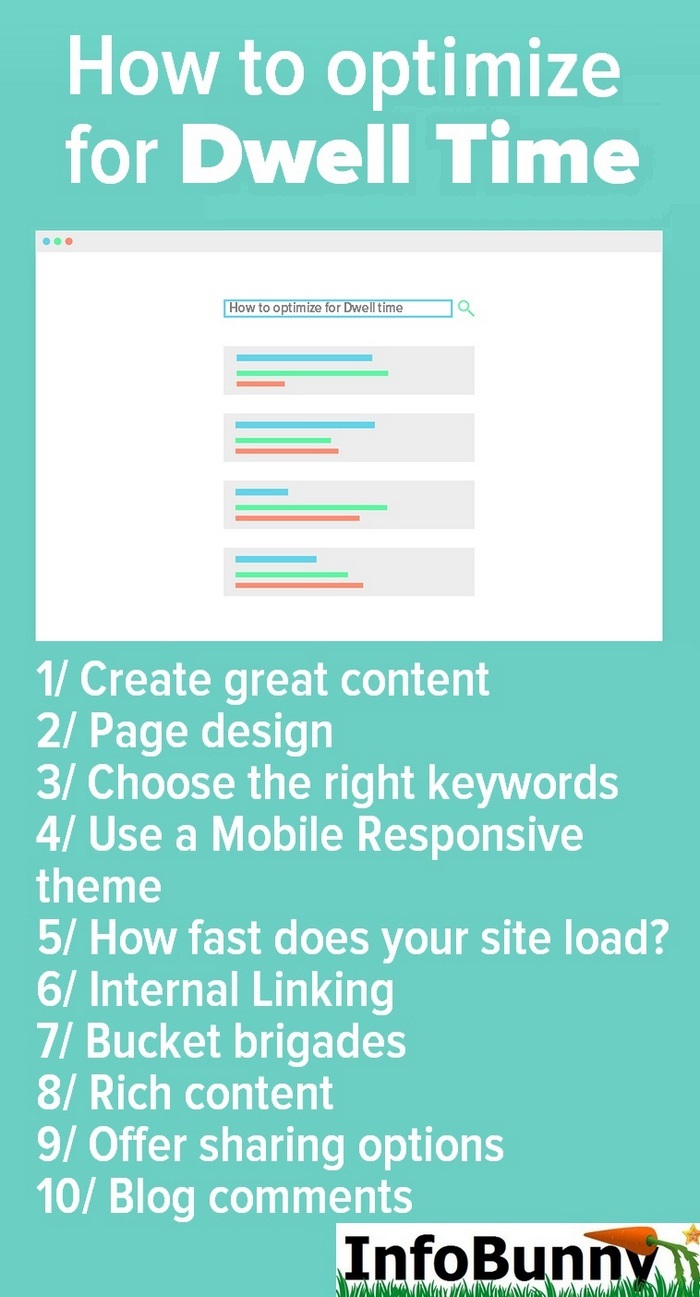 How to optimize for dwell time – Takeaways 
So as you now know optimizing for dwell time is dead easy.
In fact, SEO, in general, is pretty easy.
I am of the opinion that anyone with a site can very easily optimize their site for SEO.
It is basically just a checklist of things you are advised to do that Google likes.
Yes, you can hire an SEO expert and they can baffle you with tools and strategies and charts and stats and everything else they use to make SEO more difficult than it really is.
Or you can do as I do and do your SEO yourself and just keep it real simple and adopt a common sense approach.
If you go to an SEO expert and ask them "How to optimize for dwell time" firstly your gonna pay a lot of money and secondly they will more than likely upsell you a complete SEO package under the guise that dwell time improves with good SEO.
And they are right. If you are not found on Google, if no one is coming to your pages then dwell time doesn't matter.
Optimizing for dwell time is just a part of SEO and everything highlighted in this article is just fine tuning.
And none of this works anyway if your content is not good and fails to answer user intent.
That's all for now.
Do you optimize for dwell time? Do you have any tips of your own to add?
Let me know in the comments section below.
Remember to subscribe to the comments so that you receive notification of my reply
Regards
Dexter
Related Articles
Summary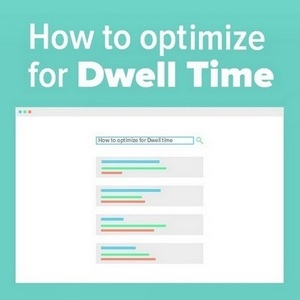 Article Name
Optimize for Dwell Time - 10 ways to improve your Dwell Time SEO - Infobunny
Description
How to optimize for dwell time. There is a lot of confusion surrounding dwell time, time on page and bounce rate. So what is the difference between them?
Author
Publisher Name
Publisher Logo