How to get more tweets on your blog articles with Tweet This
We all need social shares to are sites and articles. Social shares help get our message out to our followers and fans. They bring us much needed traffic, more readers, and interaction and more engagement to our pages. They help our articles and blogs to get indexed by the search engines faster and get them ranked much quicker. Social shares do have huge value, the problem is they can be a bit impersonal, they are a bit cold in that you push the Twitter share button and the article title and the link is sent out. Your followers are left cold because sharers tend not to make the effort to put personality and interest into the share. The Tweet just a link and a title. 
So how do we change this and get more Tweets?
Tweet This is a great free WordPress plugin that allows you to take sections of interesting and engaging text within your articles and use them as Tweets. Let me give you a couple of "Tweet This" examples
So I'm writing my article and I decide to write, 
"I'm having great success using Tweet This, you got to check this out if you are a blogger" 
Tweet This 
now do you see the small blue Twitter Birdy? Give it a click and see what happens. Instantly the text becomes a Tweet and is sent to Twitter. You as a blogger have given your readers something much more interesting to tweet. You have given them ready made content to twitter that their followers will like. It has interest to the sharer's followers, it is ready to be engaged with, it screams click me I want to find out about this and as a result, you get more Tweets. It's no longer a boring title with a link back, it's something that works on the feed and still links back to the article
Have a look at the image below. I am using Tweet This on my HowTo8App Site. As you can see i attached the Tweet This shortcode to a subtitle because subtitles just stand out more for those who just like to skim pages.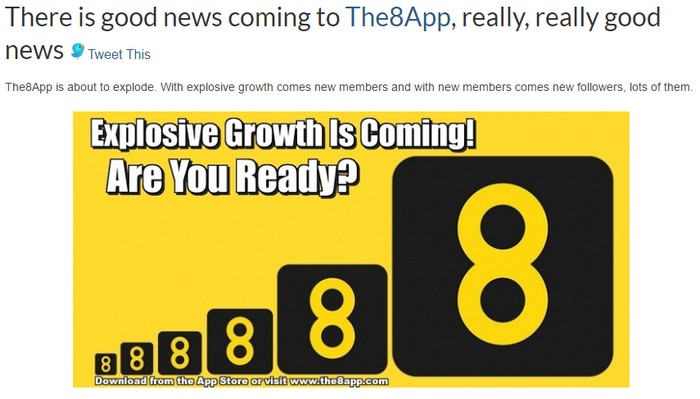 What'sThe8App?
In case you are wondering what The8App is, well The8App is a pretty cool social app that monetizes. It's Twitter or Facebook that pays 
Tweet This
I highly recommend The8App and invite you to check out my site and download The8App from the app store, just remember to follow @DexterRoona when you join…… Did you see what i did my short 8App explanation? Again click the Tweet This button and see what happens.
Tweet This comes with some very cool features. The Button Link option above is my favorite but you also have some box options that you can use which are great for quotes. Imagine the text below is a profound quote. Check out the way it is displayed in this article.
Tweet This is really boosting the number of Tweets from my blog.
As highlighted in my profound quote above, Tweet This is indeed boosting the number of Tweets my blog articles receive. I can assign usernames and hashtags to use. You can add in url shortener links if your post link is too long. You can turn Titles and SubTitles into tweets and you can even encase text within boxes for maximum impact 
If you would like more information on the Tweet This Plugin then check out the creator John Morris's Using Tweet This For The First Time Site