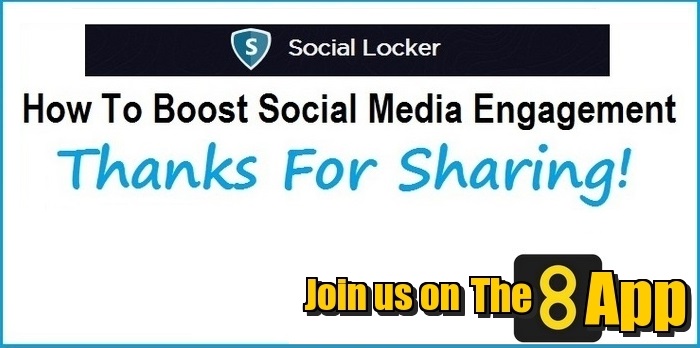 A Simple Method To Boost The Social Sharing your site gets. Drive Traffic And Increase Your Followers Tweet This
So here is the scenario for many bloggers, you write killer articles and have your share buttons in place but no one ever seems to share your posts, or you have to work very hard to get just a handful of social shares to your articles. Well, shares will come with good quality content and growing niche authority, but that will take time.
What if you could Fast Track the process! Well, good news you can!
Now you can boost your social sharing activity with a great plugin that I have discovered called Social Locker. 
I came across this plugin via a Google Plus community. I was reading the article on the authors site and came across a section of the post that was blurred (locked) and you couldn't read the content until you as the reader social shared, you had to either Tweet the page, Facebook Like or Google Plus 1 the post and when you shared the blurred content appeared.
Now when I saw this I wasn't sure if it was a good idea to be locking content and effectively forcing readers to share for you….. would it turn people off and bounce them right out to someone else's blog?
I suspected it might. But then I had a great idea for a very simple Social Media Sharing Strategy that I could set up.
A Simple Social Media Sharing Strategy Using Social Locker
I write lots of tutorials and guides for plugins, extensions and social media sites on InfoBunny and often give what I like to call InfoBunny Pro Tips, very simple tips and tricks that help you get the most out of the article topic. So with that said I think it's time for another InfoBunny Pro Tip and at the same time to demonstrate the Social Locker WordPress Plugin.
InfoBunny Pro Tip
So that is my Social Locker strategy and demonstration on how this WordPress Plugin works 😉
Conclusion
Anything that helps bring in more Social Engagement is very welcome because social media signals are now just so important when it comes to search engine results and search rankings.
I think the rule for the Social Locker plugin is to use it sparingly, not to overdo it or you could have a similar scenario similar to how people see pop up ads. Visitors will just find the whole experience of visiting your blog and having to share your post just a little bit annoying.
Let me know your thoughts on this subject.  
Do you use Social Locker? Do you have any of your own strategies when using this plugin?
Comments welcomed below!
Regards Dexter Roona