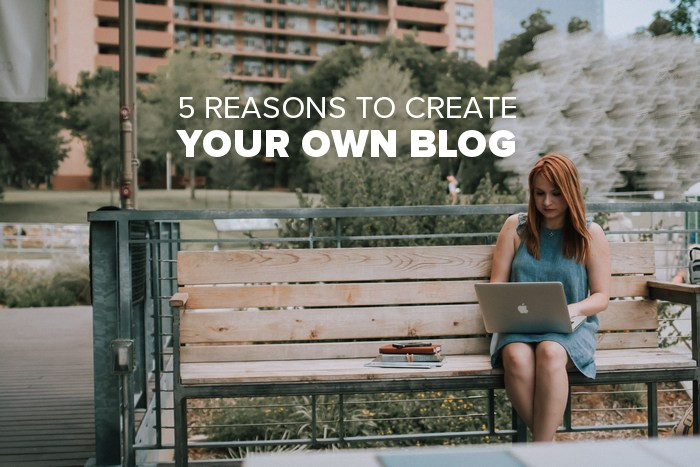 When thinking about it, creating your own blog might be a scary idea, especially if you start to think of things that will make it a hard task, like finding the time to write or finding the right words or the right field. The smartest thing you can do is get rid of all those preconceptions and enter the blogging field right away as there are many advantages.
Here are 5 reasons why you should create your own blog
There's plenty of time
If your main concern is that you don't have the time to post every day on your blog, forget it. You won't need to post daily. It helps to make a schedule that you know you can respect and stick to it. To create your own blog, posting once a week or even once every two weeks should be enough.
It boosts reputation
There's no better way to build up a reputation online rather than blogging and creating content. Providing your readers with advice helps to increase trust levels and no matter what domain you choose to blog about, it will help create a good reputation. You just have to remember that you should stick with a domain that you know and have enough knowledge to share.
Blogging creates opportunities
Having a blog can open some doors that you never thought possible to open. It can give you opportunities and resources to expand in all sort of different domains just by being in touch with so many different people. Who knows, there's a chance you might even be asked to speak at a conference simply because you're passionate about your writing.
It organizes your thoughts and helps you learn
Having a blog kind of pushes you to continuously push yourself to learn new stuff and stay up to date with all the new info relevant to your domain. Also, when you're starting a post, you first organize your thoughts and that helps to build strong analytical skills. This helps you structure great blog articles. We all know that communication is not easy, especially when you're addressing so many different people, however, blogging will help you learn how to reach your readers properly.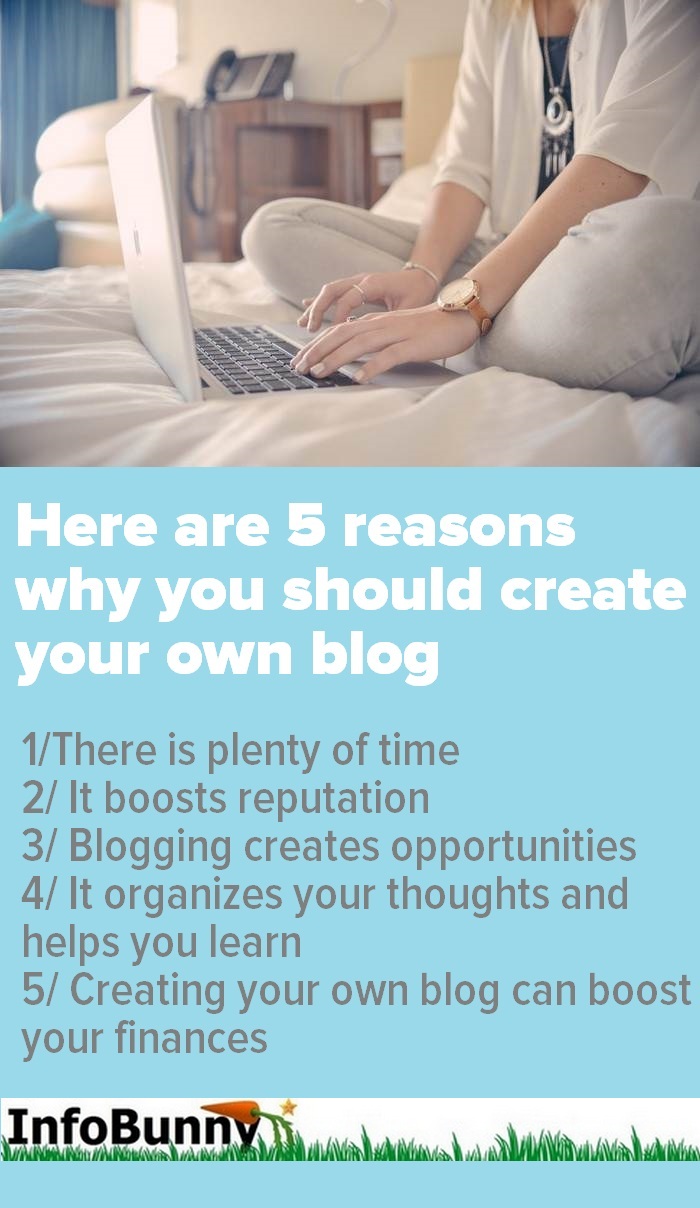 Creating your own blog can boost your finances
Although most of the bloggers don't start with the idea of monetizing their blog, this is a side-product that can be fairly easy to achieve.
If you post interesting and useful things, your reader base will grow and before you know it there might be some potential for making money out of your blog. This is a perfect situation especially if your job does not pay good enough or you simply want to make some extra cash to save for the trip of your dreams or a new car.
The best thing about generating income from your blog is that it can be a form of passive income. This means that the amount you win out of blogging does not have to be correlated with how much time and effort you put into it.
5 Reasons To Create Your Own Blog – Conclusion
So there you go, five of the many reasons you should start your own blog today. No matter if you have money on your mind or simply for personal development, blogging is one of the best tools available right now. So find your domain and start typing, you never know what may happen.
Now it is over to you. Are you thinking of starting a blog?
Let me know what you think in the comments below
Regards Kaya Johnson
Related Posts
Summary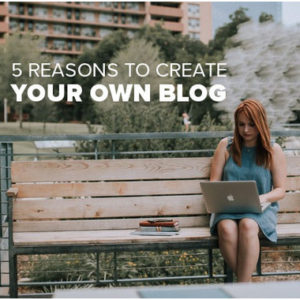 Article Name
5 Reasons To Create Your Own Blog
Description
5 reasons why it is a really good idea to create your own blog.
Author
Publisher Name
Publisher Logo


Guest Author at InfoBunny.com

Latest posts by Kaya Johnson (see all)