In this new article, we are adding to our Quora Content Cluster and answering the question "How do you create a successful Quora Space?"
Let's get started
A while back now Quora closed down its blog functionality and replaced them with Quora Spaces.
Spaces are basically Quoras spin on forums and communities.
For those of you who were not happy with the closing of Quora Blogs, well newsflash you can still blog on Quora within a Space, you just have to set it up more carefully
Once it is all set up you will find it is much easier to gain a following to your new Space than it ever was with Quora Blogs
Quora Spaces allows you to build thriving communities very quickly, especially if you choose a popular niche and select active moderators.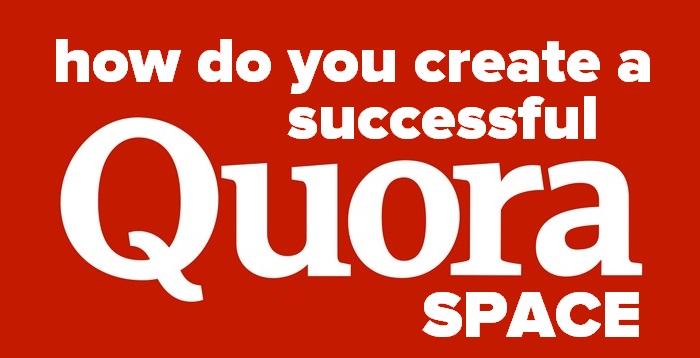 How do you create a successful Quora Space?
Invite Quora members daily to follow your Space, you should also invite them to be contributors if your Space has a community feels about it.
Ask questions on your Space from Quora members outside of who have already followed your Space, this action acts as a notification that your Space exists and helps build a healthy following.
As your Space questions become popular they circulate around Quora more bringing more traffic to your Space.
Make sure your Space looks as good as it can, it must have a professional feel about it.
Add your rules for contributing, highlight your moderators and admins and use your sidebar for any relevant information that helps members understand your Space.
Take advantage of your Spaces Avatar at its custom header to build branding within your space.
In this new article, we are adding to our Quora Cluster and answering the question 'How do you create a successful Quora Space?' Let's get started
Click To Tweet
How do you create a successful, thriving Quora Space? – Lets put some meat on the bones
As you can read from above it is really easy to create a Space and you got your 30 seconds but let's dig in deeper do that you can create a great Quora Space
Getting started
Just head over to Spaces on the App or website and click Create Space.
From there it is pretty self-explanatory.
Just follow the screen prompts to get started.
Add your chosen Space name, have an eye on Google when choosing a name.
When you get an idea for a name Google it and see what pops up.
You want a name that has a chance of appearing on Google and not one that has been used many times already.
Add an avatar for your Space, consider using an image that you can expand into your header.
Create a good keyword based tag line and add your description.
Quora Spaces Tip

I recommend that you create your Space via the web version of Quora because the web version offers you the ability to add a side panel.

The side panel is a very useful area to add more info about your Space.

You can add a much bigger description (very useful for Quora SEO), add information about the moderators, your Space rules.

You can list popular content etc, etc

It's really up to you what you add.
Space Topics
You need to assign 3 default topics to your Space.
Choose your topics carefully.
These topics will be listed on every question you ask by default.
You can always change them but if you have 3 topics that are relevant to the niche of your Space it cuts down the work
Quora Spaces Tip

When a question is added the option to add topics is not shown like it is on regular Quora questions

The 3 topics you as the owner/admin added on setup are automatically added.

Make sure that you edit every question that gets added, adding in more topics to maximize the questions exposure.
Encourage original content.
Shares from other related Spaces are good but if you allow too many then what is original about your Space?
You need to lead by example
Add a selection of great Quora questions, links and posts daily to build up your Space.
Remember that questions offer you the opportunity to request answers and bring members to your Space.
Monetization of your Space
You can now monetize your Spaces and receive revenue from the ads that show within your Spaces.
Click the monetize space option when prompted and you are taken to the screen shown below (desktop version, it will look a little different via the app)
You need to earn a minimum of $10 to qualify for payment.
Once you have hit $10 you are put through an eligibility review and once accepted you have to connect your bank via Stripe.
How do you create a successful Quora Space?
Takeaways
So as you can see it is really easy to create a thriving Space on Quora.
Here are the keys points again:
Invite new members daily to your Space to follow and contribute

Ask questions on your Space and request answers from members outside of your Space

Make your Space look as professional as possible

Notify your members of the rules and any other information they may need.

Build some basic branding within your Space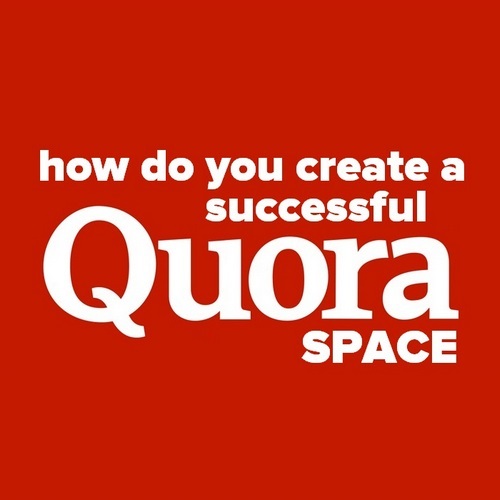 Now it is over to you!
Have you created a Quora Space?
Is your Space monetized?
Do you have any tips on creating a popular Space on Quora of your own?
Let us know in the comments section below.
Regards Dexter
Related Articles
Summary
Article Name
How do you create a successful Quora Space? - Your How-To Guide
Description
In this new article, we are adding to our Quora Content Cluster and answering the question "How do you create a successful Quora Space?" Let's get started
Author
Publisher Name
Publisher Logo