In this new article, we are talking about the best home gym equipment for kids to keep them active.
Let's get started!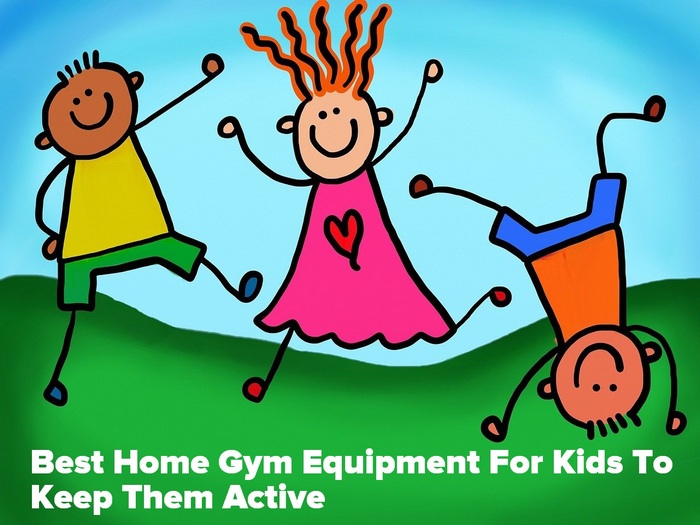 It has never been more important to keep our children active.
Times have changed from when we as children used to go out and play with our friends on the street and at the local park. Technology has firmly placed our children in front of screens playing video games and watching YouTube Videos and although technology does bring benefits it is also breeding a growing trend of obese children.
In 2019 an NHS report (Statistics on Obesity, Physical Activity and Diet, England 2020), found that the majority of adults were overweight or obese.

This figure stood at 67% for men and 60% for women – while 20% of Year 6 children (11 years old) were also classed as obese. And this growing trend is not unique to the UK.
With how fast modern life moves it is all too easy to let our children sit in front of their tablet or laptop.
More and more of us are now working from home. Technology offers a time-efficient way to keep our children safe and entertained allowing us to do what we need to do during the day.
There is nothing wrong with a child having screen time as long as the duration is monitored and managed.
After all, there is much to learn from watching and reading online content.
However, it is strongly advised that screen time during the day should be balanced with physical activity.
This doesn't mean that your child needs to do squats and burpees daily but just means that they need to be active in some way.
The Best Home Gym Equipment For Kids To Keep Them Active
My children are now 11 and 8 and are reasonably active. They are both in trampoline squad and both attend Jiu-Jitsu classes.
Recent lockdown restrictions have meant that trampoline squad has moved to zoom calls in the form of conditioning and stretching sessions along with weekly Pilates all while we wait for Jiu-Jitsu to reopen.
So you can rest assured knowing that the kids home gym equipment listed in this article is not just a random list of items that we are hoping you buy for affiliate sales but is really a list of home gym equipment that we genuinely have and has proven invaluable to us.
We will also steer you away as much as possible from equipment that is just more kids and so giving you more bang for your buck.
Trampoline/Rebounder
We had to start our best home gym equipment list for kids with the trampoline but we are not talking about the big garden trampolines that you see in gardens but more about what is also referred to as mini-trampolines (rebounders)
They are exactly what they sound like, smaller versions of the garden trampolines that all children adore.
Health benefits of using a mini-trampoline
Cardiovascular Benefit: Rebounding requires the use of several muscle groups, similar to jogging, but with the benefit of causing lower levels of shock trauma to the skeletal system than running on hard surfaces. Extended use of a mini-trampoline increases lung capacities and red blood cell counts and can actively lower blood pressure.
Beneficial to the Lymphatic System: The lymphatic system fights bacterial and viral infections and transports waste products out of the body. It is the sewage system of the body. Lymph fluid relies heavily upon muscle contractions to help it transport itself around the body. Rebounding exercise uses a huge range of the body's muscles and in only a few minutes daily can increase lymphatic functions.
Weight Loss: Every part of the body receives a workout during rebounding, promoting the burning of calories and fat deposits. Rebounding also helps increase metabolism, resulting in extended calorie use after rebounding has finished on your mini-trampoline.
Build Bone Density: Rebounding helps to maintain your bone density and muscle mass. Rebounding exercise can help to prevent osteoporosis.
Back Problems! Rebounding strengthens the back without the undue strain that you would experience running on a hard surface.
Balance: Balance and coordination improves with the use of a rebounder.
Stress Reliever: The positive effects on stress levels have been studied in depth. Dr Morton Walker, in his book "Jumping for Health",
It's Just Fun
Virtually anyone can use a mini trampoline and enjoy the various benefits. You literally can jump yourself to a healthier lifestyle.
In this new article, we are talking about the best home gym equipment for kids to keep them active
Click To Tweet
Best Home Gym Mini-Trampoline – MaXimus PRO Folding Rebounder Fitness Trampoline
Our favourite mini-trampoline for a home gym is the MaXimus PRO Folding Rebounder Fitness Trampoline shown below.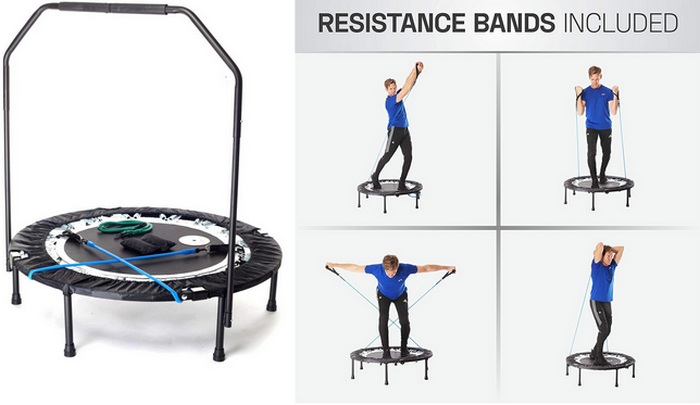 This mini-trampoline comes with the addition of our favourite piece of home gym equipment, resistance bands along with a stability bar, workout DVDs and online workouts for you to get the most out of your rebounder. Once you are finished with your workout you can simply fold up your mini-trampoline and store it away in its handy travel bag.
If the MaXimus pro is a little too pricy for you and you don't really require the benefits of your rebounder being able to fold and be easily stored then you might want to check out the Watbick 40″ Rebounder Mini Trampoline for Adults Kids shown below.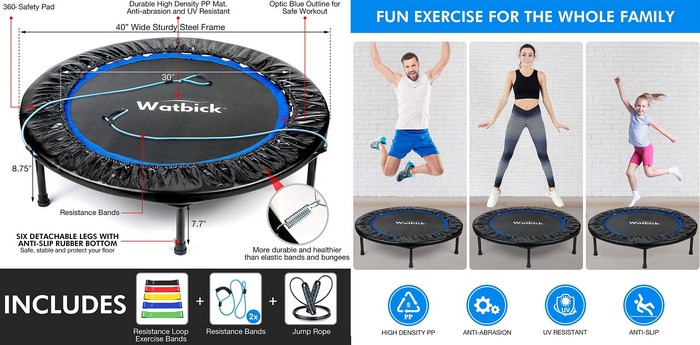 This mini-trampoline would certainly keep the children active while also working well within any home gym setup and comes complete with a tangle-free skipping rope, and 5 loop bands
If you still want to do more research for the best mini-trampoline for a home gym then check out Amazon's extensive range of home gym mini-trampolines. Buying one would be a great addition to a families home gym setup and a great investment in the health and wellbeing of your family.
Foam Roller and Bands
I mentioned right at the start of this best home gym equipment for kids list that my children are both in Trampoline Squad at the local leisure center.
Two pieces of gym equipment that they have invaluable to own are resistance bands and a foam roller reach.
The bands are used in the gym environment and the home gym environment to both strengthen the legs and the core.
Resistance loop bands that are used mainly for leg exercises come it at around the same price £10 ($14). A better option would be to go for a full set as shown in the image below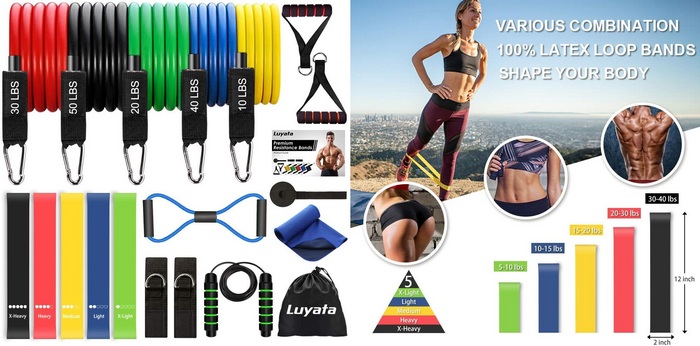 The foam rollers are used primarily for stretching exercises and to help ease any aches and pains after a hard conditioning session.
Foam rollers are relatively inexpensive at around £10 ($14).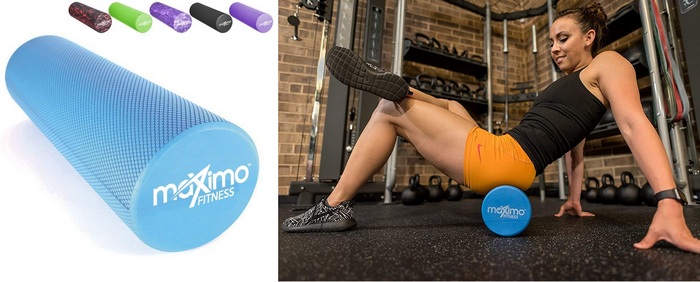 Punch Bag –
Kitopa Free Standing Punch Bag
There is nothing that my son loves more than punching or kicking his free-standing punch bag
The bag shown below is the Kitopa Free Standing Punch Bag, Heavy Punching Bag and is aimed more at adults and teens than kids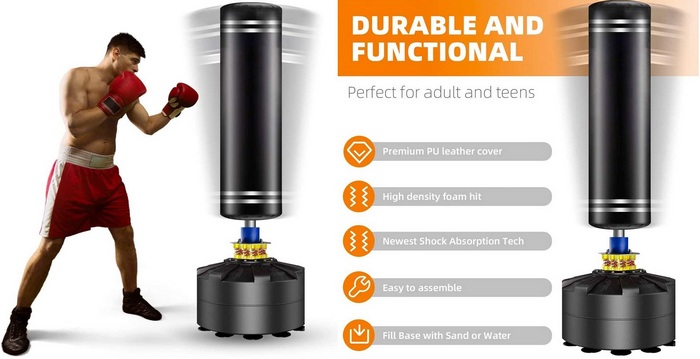 If you want something more for children then you can take a look at the KY Punchbag free-standing Boxing Punch Bag
If you are going to invest in a Punch Bag for your home gym for kids then you are also going to need a set of boxing gloves and maybe even some pads.
Amazon has a great selection that you can take a look at Kids Boxing Gloves And Pad Sets.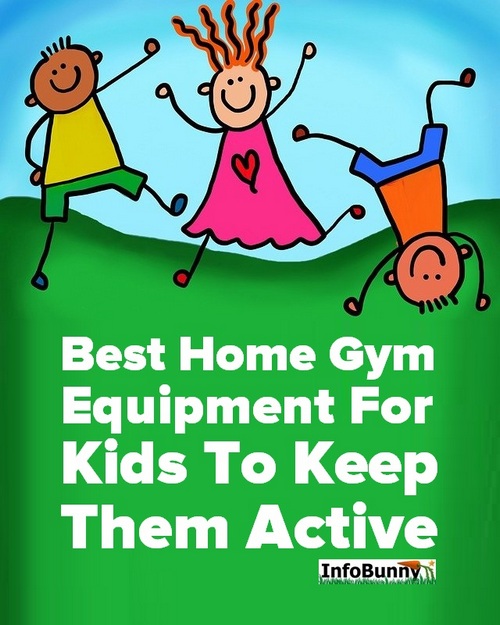 Related Articles:
Summary
Article Name
Best Home Gym Equipment For Kids To Keep Them Active And Healthy
Description
We are talking about the best home gym equipment for kids to keep them active and healthy and off of their often over-used mobile devices.
Author
Publisher Name
Publisher Logo