Could there be a new content curation (bookmarking) site to rival all the others in cyberspace?
Probably, in fact, more than likely.
The bigger and better question to ask is "could there be a new content curation site that is about to step on the toes of Pinterest?"
In this Wakelet Getting Started Guide, we will reveal Wakelet fits into the social scene. Who is behind Wakelet? and how to setup your account and how to best use this great site.

So What Is Wakelet?
Wakelet is a free visual content platform helping people, businesses, and academic institutions organize and curate their online information so it is easier to find and share.
There are already a number of very good content curation (bookmarking) sites on the web. Scoop.It and Pocket spring to mind. And of course, there is Storify. But as we now know it has been announced that Storify is closing its doors.
Storify closing poses quite a problem for Storify users because although Storify has given members time to export their content, the exporting process is quite manual and very time-consuming. 
I was contacted by James Davis from Wakelet who had seen my Storify Closing Down article and offered a solution to me and all the other Storify users to fix the Storify exporting problem.
Wakelet is a new content curation startup. It has a very similar setup to that of Storify. The solution that James gave was simply to import your Storify stories straight into Wakelet as new Collections or Wakes as they are known. So I made an account and went to the Wakelet import page and imported my stories directly into Wakelet.
The whole migration process took around 2 minutes and was completely painless. It was just a 2 step process. 
The end result was that I saved a ton of time and now have another curation site that I actually find fmore user-friendly than Storify.
Who is behind Wakelet?
Wakelet is based in Manchester in the UK and is the vision the vision of CEO Jamil Khalil.
Jamil came up with the idea for the online platform back in 2011.
In 2013, he left his job to run Wakelet full-time. 
Wakelet allows anyone to assemble collections of links, videos and images on any topic they like. The idea with Wakelet is to augment traditional Google search results with topic-based, human-curated collections.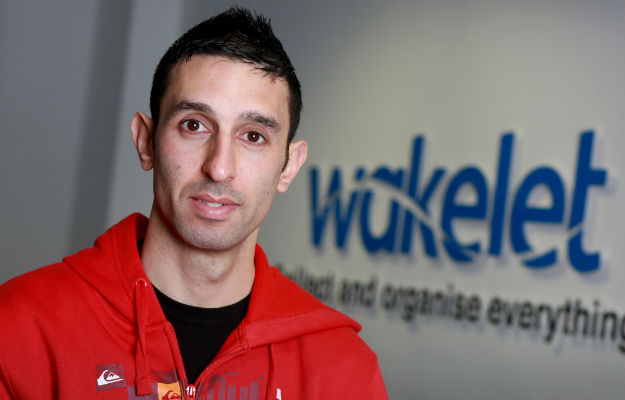 Jamil has secured investment from a number of high-profile investors to continue the rise of Wakelet, including Chillingo founders Chris Byatte and Joe Wee, a platform that specialises in publishing games by independent developers on mobile platforms, including Angry Birds.
Wakelet is in the same social space as Pocket, Scoop.it, StumbleUpon and of course Pinterest. Though Pinterest is seen as more of a social site than a content curation site.
In fact, Pinterest is really more of an image search engine than a social site. Wakelet is in the same vein as Pinterest in that it is more than a content curation site.
Wakelet Getting Started Guide – Your Guide To Wakelet
This Wakelet Guide will mainly cover using the platform via desktop or laptop, using Google Chrome with the Wakelet Chrome Extension added to the Chrome browser
If you are looking to go mobile with Wakelet then you can download Wakelet for Android or Wakelet for IOS and work in a completely immersive mobile environment.
When you head over to Wakelet and you will see a page very similar to the one shown below.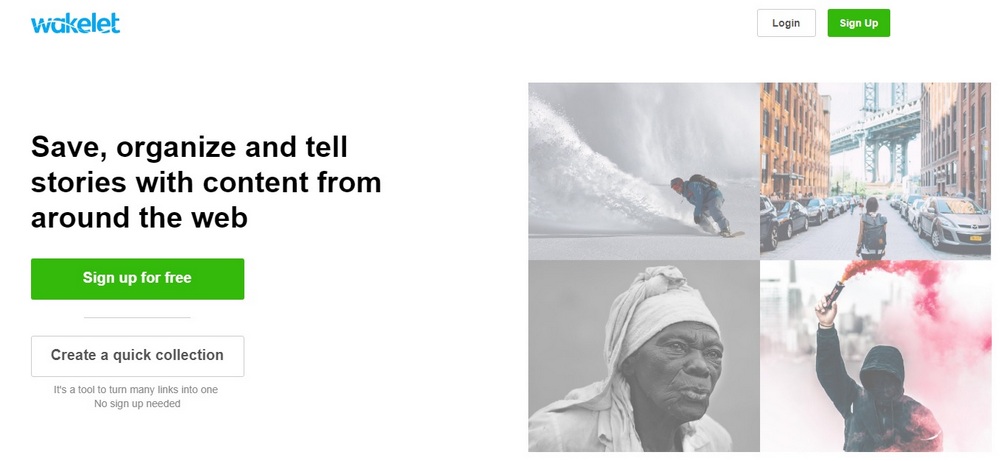 Sign up and make your account. Verify your email and then log in.
Setting Up Your Profile
Click "View Profile" to go to your profile.

Click "Edit Profile" and customise the look and feel of your profile.
This is your chance to add your social brand to Wakelet and really make it stand out and appeal to other members.
Add a header image and avatar for a professional look and feel. If you have your own website then you can carry over the branding to continue your goal to become recognizable on the web.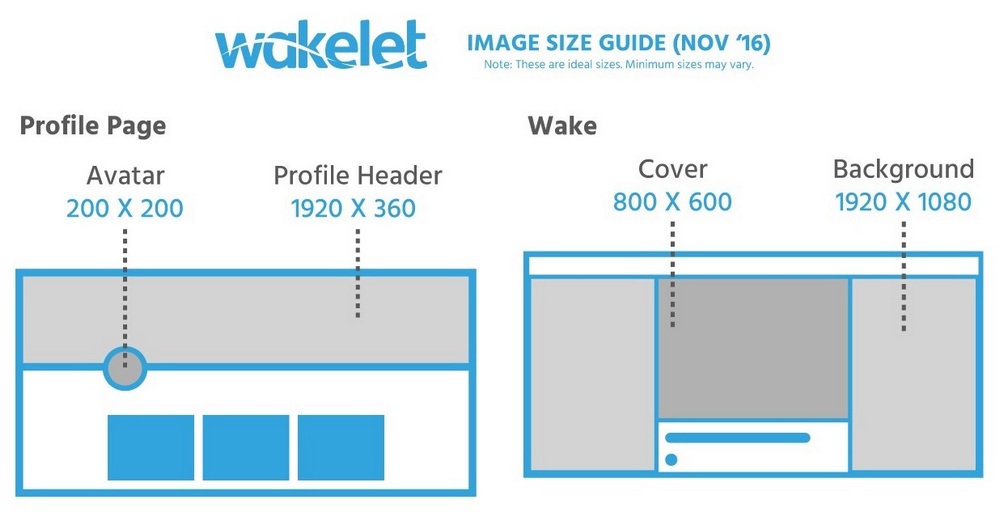 Wakelet Getting Started Guide – Profile and Wake Image Size Guide

Profile Page

Avatar 200 x 200

Profile Header 1920 x 360

Wake

Cover  800 x 800

Background 1920 x 1080
When you add a header image you have the opportunity to upload your own image, use a system image or just use a base colour as your header.
Add in your Bio. Tell other members what you are all about. Share your likes, your passion and bring others into your world.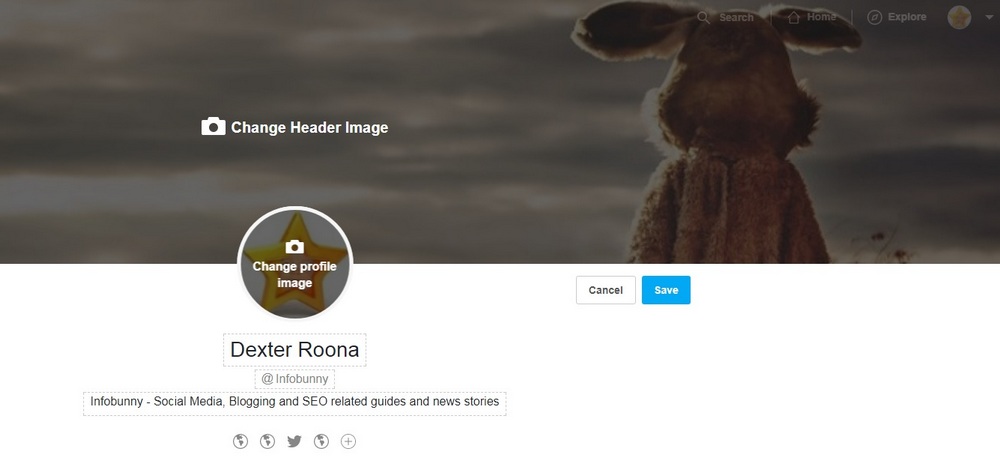 You can add 5 links to your profile. These can all be links to your sites or they can be your social channels, your Twitter or Pinterest. It is up to you what you link to here.
Click the "Link" icons below your bio to add the links of your choice.
Click "Save" and you are done.
If you are joining Wakelet as a result of Storify closing down then here is your guide to importing your stories to Wakelet
There are just a couple of steps to export your Storify content
Log in to your Storify account and add the message given on the import page to your Storify profile bio 

for verification.

Add your Storify username to the box and click "Next"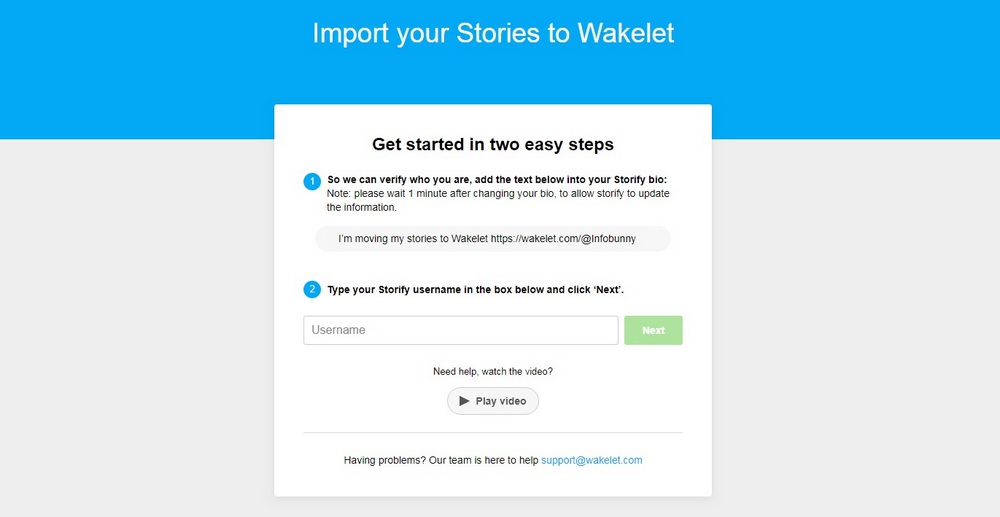 Your content is then imported to Wakelet.
There is no need to sit and watch the import. You can just close out and you will receive an email notification when your migration is complete.
Creating your first Wake (Collection) 
Collections (Wakes) are related content stories or if you like folders that you curate or share to Wakelet Each wake that you create is a social feed in its own right. 
Click "Collections" on your homepage after logging in.
Click  "New Collection" Give your Collection a Title and add a good keyword based description
Newly created Wakes are set to "Private" by default so if you want other users to discover your content then set your Wakes to Public. The visibility options are shown below.

Each Collection can have a cover image and you can also add a background to each collection feed.
Adding And Curating Content To Wakes
You can add images and text directly to any Collections you create. So rather than curating or sharing from another site you can just upload and add text manually.
This is a great feature for an organization, business, or anyone just wanting to put down some ideas for an ongoing project and at the same time if required keep the Collection private. You can also add contributors to the Collection, work colleagues, friends etc. You can if you want in the same way make Public Collections and have contributors adding to the conversation.

The idea of group boards is something that is very popular on Pinterest. Users can follow and engage on shared Pin Boards with the common goal of driving traffic.
By joining forces on group collaborations like this you have the opportunity of leveraging users outside of your own social window.
You can also move curated content from one Collection to another.
Curating To Collections From Outside Of Wakelet
When you find any content on the web that you would like to add or share to a Wake simply click your Google Chrome share button located at the top of your browser.
When sharing you are offered the opportunity to curate to a new Collection or to curate to an existing Collection.
Remember new Collections are Private by default so if you want to make your Collection visible you will need to go to Wakelet and change your privacy settings as highlighted above. You will also need to visit Wakelet to add a Cover Image and Background for new Collections/Wakes
Wakelet Getting Started Guide – Exploring Wakelet
Click the Explore icon at the top right of your screen to navigate and explore Wakelet. Here you will find Top Picks and Popular Content. 
If you pull down on the Menu next to your avatar (as shown below) you will find links to your feed where you will see the latest content from anyone you are following. On the right, you will your notifications. And you will also see more of the Popular content that is trending on Wakelet on the left of your screen.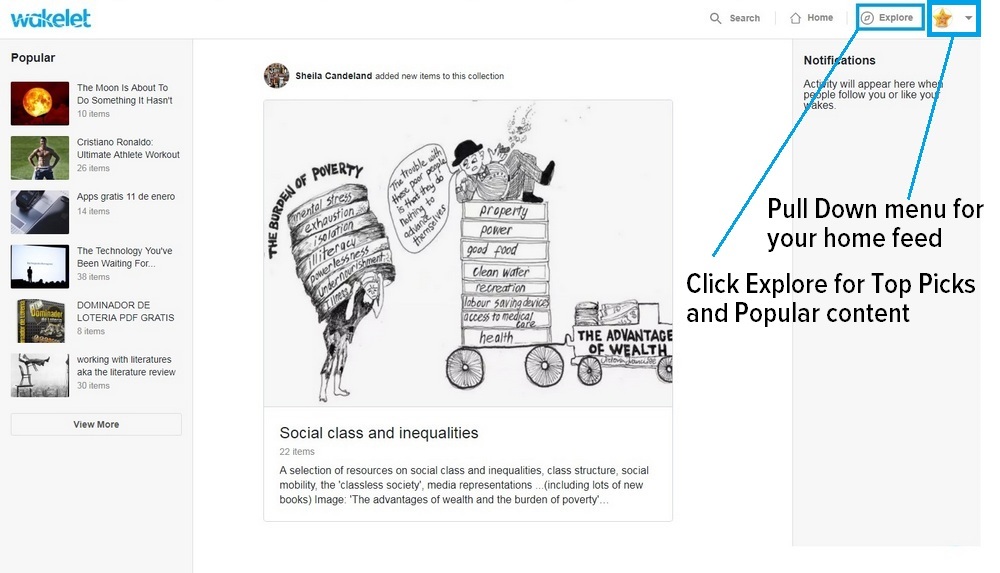 Following Other Members
If you want to be seen on Wakelet, if you want to generate traffic then you need to start to build a following. Start by just adding some members who are creating and curating great content. Content that you are interested in and related to what you like and add to your Collections.
To follow a member visit the Collection that you are interested in and just click "Follow" and you will be following all their Collections. If you then click into a curated Collection they have added you can view all the content that has been added. You can then also "Like" any of the stories or images and if you wish to share to your other social channels. You can also send the members direct messages.
The QuickWake Feature
The QuickWake feature gives people the ability to paste together URLs or links from various sites. Knit them together to make a story, and publish immediately and seamlessly – without needing to sign up. I'm already surprised at how addictive it is. You create a kind of temporary Wake that is not saved to an account. You can then grab the link and email it or share it with your friends.
Here is a short video guide of how it works
Wakelet Getting Started Guide – The Mobile App
Everything is pretty much the same between the desktop and App versions on Wakelet except when it comes to sharing content to your Wakes.
You can upload images from your mobile camera roll and add text in the same way. The big difference, however, is how you share content from other sites to Wakelet.
Here is how you do it.
Find content that you want to share on your mobile.
Click the 3 vertical dots as highlighted in image 2 below.
Select Share
Select Wakelet
Add to the Collection/Wake of your choice or create a new Wake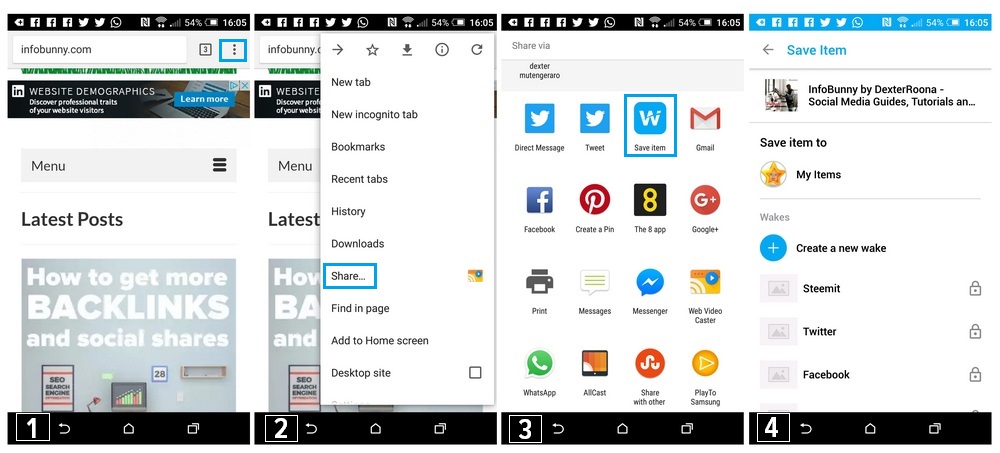 Wakelet Getting Started Guide – Takeaways
Wakelet fits very nicely into the content curation world. Content Curation sites by nature tend not to be the most popular of sites, they tend to be more niche. But niche can still be big. Pinterest started out as a content curation site and it has become one of the biggest social sites we have today when the reality is that Pinterest is now more of an image search engine than a social site.
Can Wakelet follow in Pinterest steps? Well, I don't know if a similar direction is on their roadmap. But it is certain that we do have a site here that can be one of the best curation sites out there.
Now it is over to you
Are you a Wakelet member? Did you find this Wakelet guide useful?
Do you use any content curation sites?
Join the conversation and let us know in the comments below!
See you on Wakelet and don't forget to follow the InfoBunny
Regards Dexter Roona
Related Articles
Summary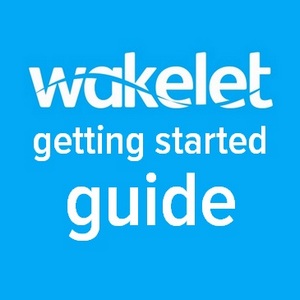 Article Name
Wakelet Getting Started Guide - Content Curation to rival Pinterest?
Description
Getting started guide to Wakelet - Could there be a new content curation/bookmarking site to rival all the others in cyberspace? Probably, in fact, more than likely. But could there be a new content curation site that is about to step on the toes on Pinterest?
Author
Publisher Name
Publisher Logo