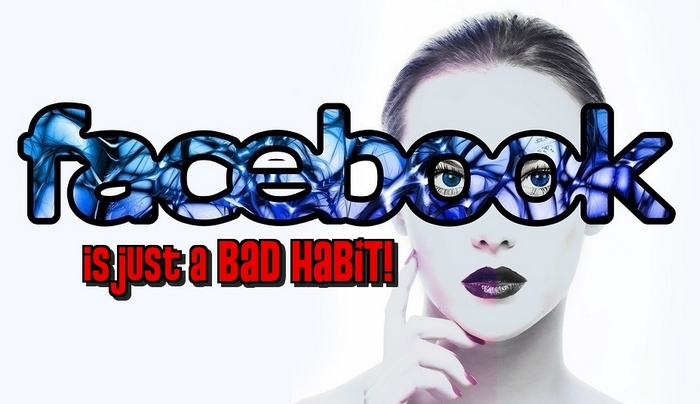 The Facebook HABIT – Facebook is nothing more than a BAD HABIT that you need to break! Face Up to your social media addiction.
Tweet This How many times in a day you see someone glued to their smartphone, swiping and tapping away, oblivious to what is happening around them?
But when does being an 'active user' turn into over-use, reliance, and possibly even social addiction? 
Ok, so you could say that I have a social media addiction. I love social media and networking. The simplest of comments from a new friend to the in-depth conversation about a subject I am interested in can compel me to reply or react and get me reaching for my mobile when it beeps. It is the modern world we live in, a world where information just flows everywhere. We don't like to miss out on what is being said in case it involves us so when that text message comes in or that beep chirps we react.
I don't think there is too much wrong with this as long as you can stop when enough is enough.
But many members on social sites just can't stop. And Social Media becomes part of their "real world". They dare to say and do what they wouldn't normally do in the outside world. This is very evident on Facebook, and when this happens it really is time to face up to your Facebook Addiction Disorder.
With over one billion Facebook users and 300 million on Instagram, like it or not, the accessibility and increasing importance of social media means it has become part of the fabric of society
Facebook Addiction
This article focusses on Facebook because Facebook is the original social media addiction network. Everyone is on Facebook and the site just loves to feed those with addiction symptoms.
Tweet This
 If you ask Facebook users "
why are you using Facebook
?" they will say 
"because my friends are there"
. Then you have all the guys saying yeah
"Facebook is so great you can make a ton of money there, Facebook ads are the way to go",
they are just looking for their lamb to the slaughter… ok so it's not quite that bad but that is basically how the Facebook money making machine works. 
Why is Facebook such a huge success? 
Well, most of the success I would attribute to timing. Before Facebook all we really had was MySpace. Facebook was the next step in social media evolution, it offered something new and revolutionary. It offered a great platform where your friends really were your friends and it suddenly became addictive for many as it was an extension of real life. 
Now the next step is urgently needed in the way that we all connect and share content on the internet. The problem is Facebook is just so big. They know how to keep their members by feeding their social addiction. Something pretty special has to happen to formulate change for members to break their Facebook habit. 
Why Facebook continues to dominate social media
There is no alternative for the masses or at least that is how members feel and the FACEBOOK HABIT/ADDICTION really is a reality.

An absolutely massive captive audienc

e for advertisers. Facebook has money on tap and has already shown that it is not beyond buying up the competition and using the need for change to strengthen its own position. We saw this with the acquisition of Instagram.

Members also contributing and compounding the problems by paying to reach a bigger audience. 
Why do kids stand on street corners? 
Because their friends do and they have nowhere else to go. Build them a Youth Center or run a Community Scheme, offer them some kind of alternative any kind of alternative and change starts to happen. And that is exactly what needs to happen within social media. The resulting change then needs not to accept the Facebook $ when it comes knocking on the door. 

We have established that Facebook makes its money from advertising. The captive audience they have is so great that if you have an advertising budget you just have to advertise there. Now no one is opposed to sites making money but when they then squeeze the members by restricting the views they get in the hope that they then pay for what is taken away from them then that is wrong.
There is room for social sites to make money and not screw the members into the ground but they choose dollars over what is the right thing to do.
So what is the answer?
Well, members need to break the Facebook habit and not stand on the street corner. They need to be proactive in forming change. If you want to change the system then take some kind of positive action to do so.
How to break the Facebook habit – Here is what I would do if I was you
Do you suffer from the Facebook Habit or any Social Media Addiction? 
Have you already broken the addiction? 
Looking for Social Media Addiction Help? It's as easy as joining The8App! 
Leave a comment below I would love to hear what you think on this topic.