How To Give Your Blogs Viral Reach – How To Make Your Blogs Go Viral Quickly, Well Almost!
We are all looking to get our blog articles out to our readers. The main way to do this is via social media channels. Getting our articles shared means that our posts get indexed quicker and get found on the search engines.
Viral Content Buzz is a great site that  allows you to add your blog articles to the Viral Content Buzz sharing platform to be shared by the members. To add your articles you need sharing credits, you can simply buy these by becoming an upgraded member or you can earn them by sharing member content.
Once you have some credits apply them to an article that you want to share and let the members help tom make your blog go viral.
Watch This Very Short Video
Viral Content Buzz is a very powerful addition to any social media management strategy it provides masses of social shares for your posts that will help make your blogs go viral.
Getting Started With Viral Content Buzz
The first thing to do is to make a profile account and verify your account by clicking the link in the email that is sent to you, be sure to check your spam folder, some times it will end up there.
Once your profile is set up you need to add your social media accounts so that you can share member posts. You can currently add the following social media sites
Twitter (up to 5 accounts)
Facebook (Profile and Pages)
Pinterest
StumbleUpon
Google+
Once you have your social sites added your ready to share some members articles in exchange for credits that you can then apply to your own articles.
Take a look at the screen capture below, it shows 2 of my articles that can be shared and also other member posts that can be shared.
Simply click the relevant social media site button next to each project and earn the credits on offer. The green numbers tell you how many credits you get for sharing to that social media channel. The slightly greyed out buttons are sites i have already shared that project (post) to. You can only share each project to each social channel once.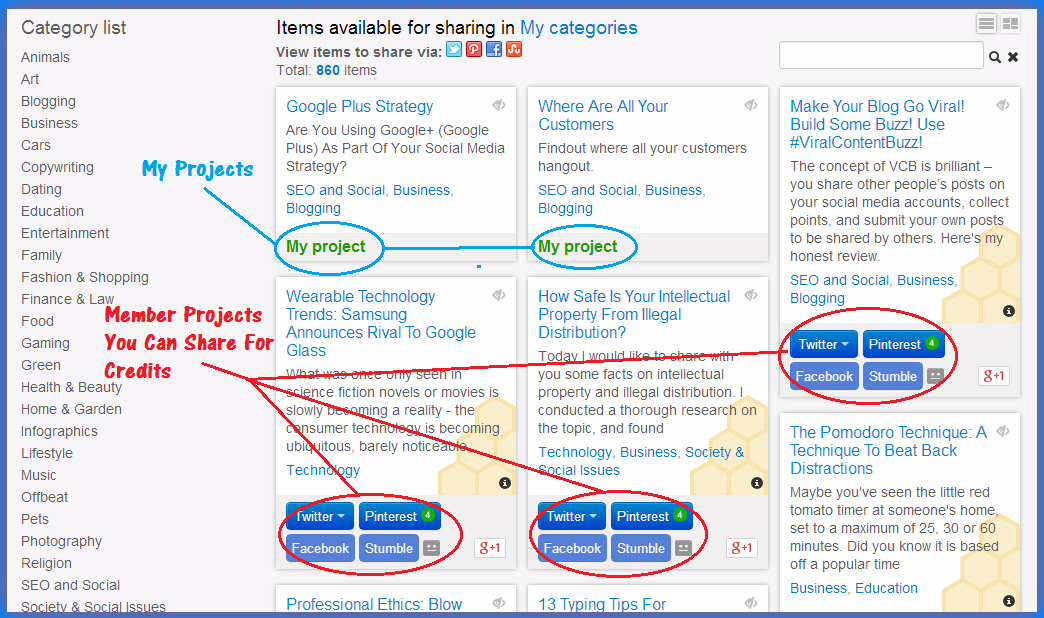 Adding A Project To Viral Content Buzz

It's very simple to add a project to Viral Content Buzz, firstly you need to have at least 10 credits to add a project. So if you don't have any credits upgrade your membership or share a few member posts.

Add your article link into the Url Box. Next add in a Title for your post, this title is included in tweets that are made.

Now its time to add in a description this follows the url on Facebook posts. Make your description interesting to encourage shares.

You can then Tag your project to appear in up to 3 categories.

Next you need to set your Project Budget, this is the number of credits that you will spend on this project

And then finally select the social media channels that you would like members to share to.

You then have to tick that you have read the site guidelines and then your project is set to pending while moderators check your content. Emphasis is very much placed on quality and no commercial posts are allowed, please refer to the guidelines for more info.
 Viral Content Buzz Is A Great Site To Get Involved With
If your a blogger or an article writer then Viral Content Buzz is an absolute must have site. You have to have a social media management strategy to get seen and this is about as simple as it gets to get masses of social shares and is a valuable part of any social media management strategy. Viral Content Buzz can make your blogs go viral.
A SIMPLE SOCIAL MEDIA SHARING STRATEGY FOR VIRAL CONTENT BUZZ
UPDATE 5/6/2014
I have been using Viral Content Buzz a while now and have come up with a very, very simple sharing strategy that is specific to getting the most out of Viral Content Buzz, im sure a lot of you who already use this VCB are already doing what i am about to show you, and some users reading this will think wow that's a good idea.
Ok so the way Viral Content Buzz works as we know is that we add our articles to the site to then be socially shared in exchange for VCB Share Credits that we allocate to our sharing project's.
The first time we add a project to the VCB System it appears on page one as a New Project and then moves down the line as more new projects get added and then moves onto the 2nd page of projects or 3rd or 4th.
This results obviously in less shares for your projects, so the place you want to be is really page one, especially for relatively new projects.
So how do you bump one of your Projects back to Page 1?
Well there are a couple options, firstly if you allocate 30 new VCB Sharing Credits to any project it will jump back to page one, add any less and it will stay on the page it is currently on.
But what if you don't have 30 credits?
Please Share to Facebook, Twitter Or Google Plus
to Unlock This Cool VCB Tip
To Your Continued Success!
Regards Dexter Roona
Free MyLeadSystemPro Facebook Training

I just watched this really amazing FREE Facebook Training webinar from MLSP MyLeadSystemPro and the great news is you don't need to be an  MLSP MyLeadSystemPro member to view this free training.

If your not sure what MLSP MyLeadSystemPro is then here is a quick intro…. MyLeadSystemPro it is the best Online Marketing Education And Affiliate Platform out there and if your a serious marketer you need to be switched onto MLSPor better still switch onto MLSP MyLeadSystemPro via Networking Superstars. You can read my full MLSP MyLeadSystemPro Review and Networking Superstars Review for more information.

 

  
Social Media Expert and Blogger. I love all elements of social media and my InfoBunny Blog is now really just about providing help for those looking to build their Social Media Authority.
Latest posts by Dexter Roona (see all)