My TOP 10 WordPress Plugins For Your WordPress Blog Part 2
Welcome back to our Infobunny Top 10 WordPress Plugins, if you missed part 1 then it is worth popping back and having a read, you will read all about BackWPup, Wordfence, TinyMce and more.
My TOP 10 WordPress Plugins You Should Be Using To Kick Start Your WordPress Blog

There are endless WordPress Plugins that you can use to help you build a fantastic WordPress Blog. Some good and some not so good and some are a must have.

Here are the Infobunny Top 10 WordPress Plugins to boost site security, the aesthetic look and feel, seo requirements, social sharing functionality and more. I have split my Top 10 WordPress Plugins Article into 2 parts with this being part 1 of 2.

To read the article Click Here
So lets move on and begin our Top 10 Part 2…. remember the list is in no particular order.
Number #6 – 
Comments Evolved for WordPress
Being a big Google Plus user i find this plugin being an absolute must for me. Formerly named Google Plus Comments for WordPress, Comments Evolved adds a tabbed comment section for Google Plus, but not just Google Plus, we also get Facebook comments, Disqus comments, Livefyre comments and the traditional WordPress comments. Now i know that sounds like you could end up having a lot of comments on your screen but you can easily deselect what you can and cant see on the screen just with the click on an on screen icon. 
Comments Evolved brings your articles to life as visitors really can see the true activity and reception that your articles receive as you cross promote across multiple social media platforms.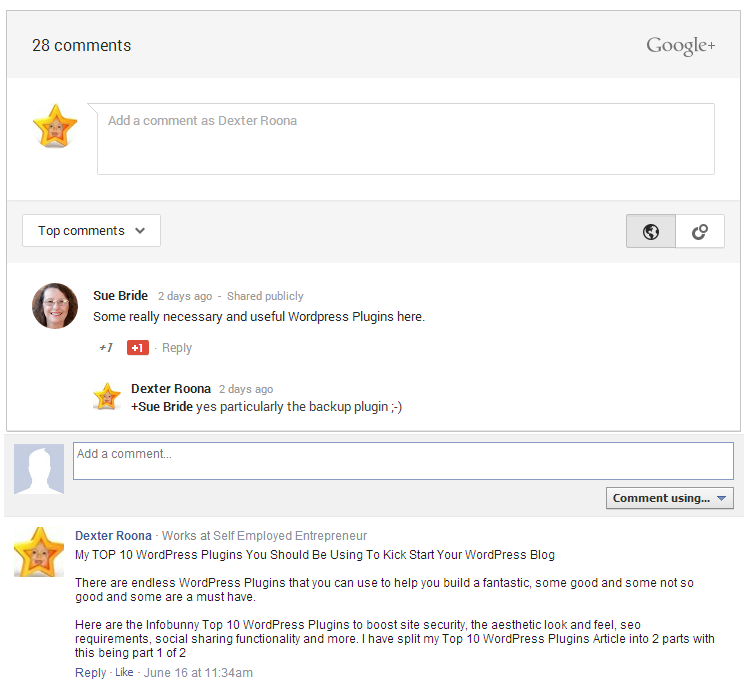 InfoBunny Pro Tip
Combine Comments Evolved with CommentLuv by installing the CommentLuv Plugin and encourage even more engagement and comments to your articles by allowing commentors to leave nofollow and dofollow links.
Number #7 – Related Posts By Zemanta
Related Posts gives your visitors reason to stay on your pages for longer.
After a reader has finished reading your latest article they are in action mode and looking to read more. Related Posts By Zemanta displays your other related articles below the main content. There are many reasons why it is beneficial to show related posts.
The main benefit of having related posts on your articles is the increased engagement and readership that you earn from having them on your site. When your other posts displayed strategically your click through increases and your bounce rate decreases.

Number #8 – Social Author Bio
Social Author Bio is a very useful plugin that allows you to add an Author Box at the end of your articles. You can attach all your social media contact details to all the social media connectable services provided (see image below)

For a working version click the image above and scroll to the bottom of the page. Social Author Bio provides a professional finish to an article and provides your readers with all your social media contact information that will further increase your social media engagement.
Number #9 – Simple Share Buttons
There are lots of different share button plugins available but as the name suggests Simple Share Buttons is incredibly simple and at the same time customisable and stylish
Select the position where you would like to display the buttons, before or after the post, the location, pages, posts, homepage, archives/categories. Select the style of buttons you want to add and then connect the services you would like to add and click save.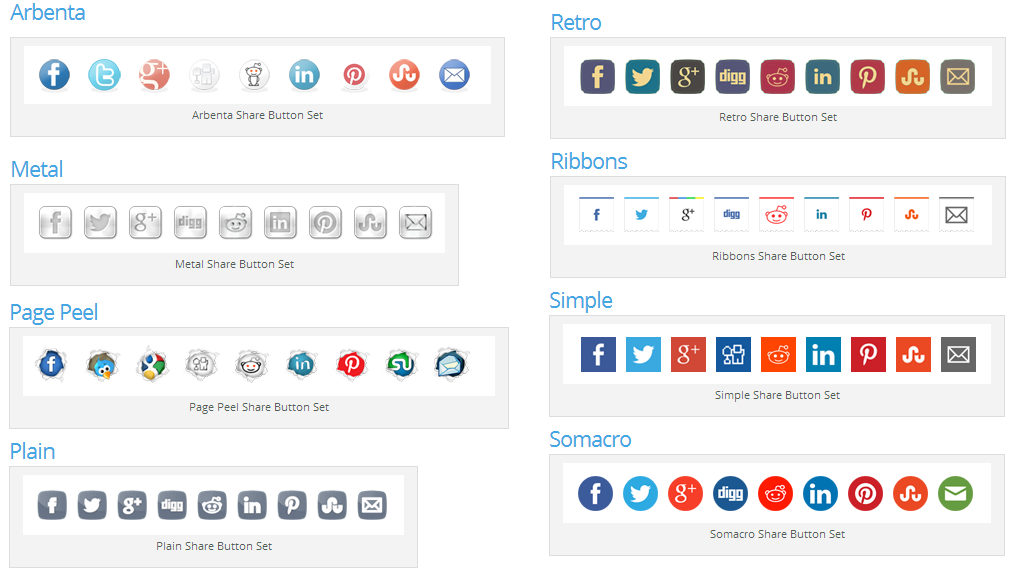 Number #9 – Triberr Plugin
The final plugin in the Infobunny Top 10 Plugins is the Triberr Plugin. Triberr is a website where members can create tribes(groups) around their niche interests, it is a site for bloggers who want to connect with bloggers. I have already written a full article about Triberr so i will link you into it.
Triberr Getting Started Guide

Triberr is all about Blogging and Social Media. It is bloggers helping bloggers, get their articles and posts seen, via Triberr Tribes and Social Media Channels.

Tribes to put it simply are groups of like minded individuals who like you and i are looking for engagement to the articles that they post, to bring in traffic, better search results. 

Find the top Influencers and become an Influencer

Finding relevant niche tribes however can be a little tricky especially when you are just starting out with Triberr. 

But worry not, my Triberr Beginners Guide and Tutorial will help you get past the road blocks ahead.
The Triberr Plugin connects your blog to your Triberr account so that when you post your article is also published on Triberr and time stamped later than the original so that there is no duplicate content issues, it is then available for all your Tiberr followers to view and engage and comment.
That's it for the Top 10, remember my Top 10 was in no particular order… i will keep this updated as and when i find new treasures to share
To your continued success
Regards Dexter Roona