In this new article, we are talking about the Q&A site Quora and digging into merged questions, what they are and how you can avoid question merges on Quora.
We will be covering:
Why Quora merge questions.
The difference between good and bad merges.
What to do when a question merged.
Why members merge questions.

How to avoid question merge

s.
Let's get started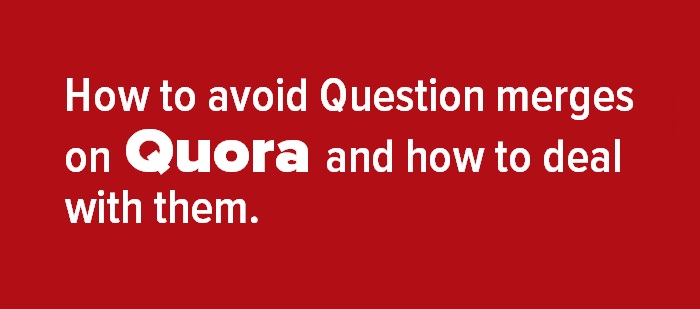 How to avoid Question merges on Quora and how to deal with them
There is no doubt that Quora is a great question and answer site and a site that when used well has the ability to drive a lot of traffic to your site.
But when using Quora there is nothing more annoying when the Quora bot or a member decides to merge your question to existing questions.
But why do Quora and other members merge questions and what should you do when your questions get merged?
Why does Quora merge questions?
Well, it is mainly to do with duplicate content.
If you have 10 clone questions that are all very similar then the members have probably already seen your question.
And then how does Google know which of the 10 questions is best and the one they should rank on search?
Ok, so Google is pretty good at deciding which of the questions is the best.
But questions merged into other questions tells Google what Quora considers to be the best questions.
Merged questions become stronger questions on Google because all the relevant answers merge to the main question.
Quora channels traffic to the main question by redirecting the clones linking the copies to the main question.
This is effectively a pretty cool SEO internal linking strategy.
If you know your SEO you will know is an optimization that is very important when attempting to rank content.
But not all merges are good merges?
Most Quora question merges are made by the Quora question merge bot.
When it finds something similar it will merge the new question its finds to the question that was first asked that it considers the same.
New questions merge to old and not the other way around.
But the bot does get it wrong from time to time and often questions that can appear similar can often have a very different meaning.
There are also some very useful members that for some reason like to merge questions.
Unfortunately, these members are often not experts on the given topic and so don't have a clear idea of what is really being asked.
The result is that they make some pretty poor merges.
What to do when a question merges.
When a question merges you are sent a notification which tells you how your question has been merged like the one shown in the screen capture below.

All you need to do is to review the merge.
If you disagree go to the question and click the 3 dots as shown in the screen capture below and the select View Stats and Log.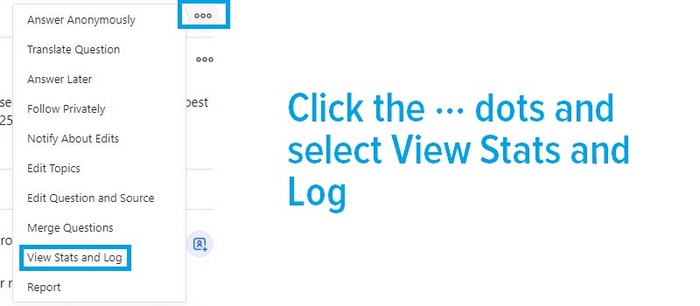 This will take you all the edits made on the question since it was published..
Locate the question merge you want to change and click revert.
A pop-up will appear asking for a reason.
Type in why you are unmerging and click return and you are done.

There are occasions though when you find yourself in a tug of war with the merge bot.
You unmerge and within a couple of minutes, it merges the question again.
When this happens you can again revert the question.
Click report on the edit where Quora merges the question and report it as vandalism.
If this doesn't work then your last course of action is to send in a support ticket about the merge.
Join the conversation: In this new article, we are talking about the Q&A site Quora and digging into merged questions, what they are and how you can avoid question merges on Quora.Click To Tweet
Why do members merge questions?
The majority of members make question merges in good faith.
They believe they are doing the right thing.
But unfortunately, there are those who merge questions to steal your Quora questions.
Quora partner program members questions are monetized and there are those who will merge your questions into yours to make their own stronger on Quora and rank better on Google.
It is bad enough that they attempt to take your question but then when you add in Quora's policy where all earning on the question, past present and future move to the question that yours merges to you are left with a very sour taste in your mouth.
Let's say you have a question paying $3.00 a day and it has already earned over $50 in a month or so if that question merges you lose the $3.00 per day and when the payment cycle resets at the start of a new month Quora takes back the $50 earnings and pays it to the thief as a bonus.
When this happens, unmerge and report the member merging if they are merging old questions to new. As stated early it is Quora's policy that question merges must be new to old.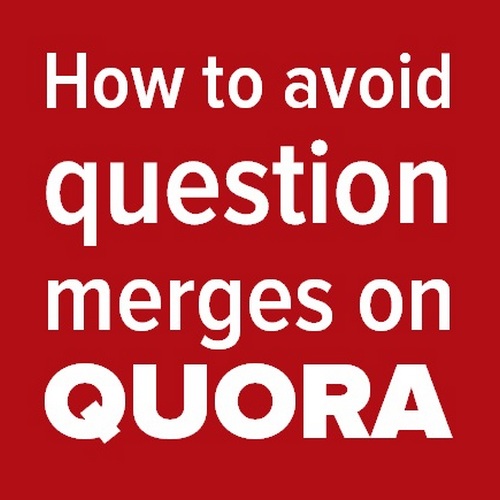 How to avoid question merges
It is actually more difficult than you would think to avoid question merges.
The only real way is to write unique questions and if you are writing a question that is similar to an existing question then word it very carefully.
When you do hit upon a unique question it is a very good strategy to then ask the same question in a number of similar ways so that someone else cannot ask the same question in the same way.
Do not flood the platform with cookie-cutter questions.
Instead, ask your questions over the period of a week or so slotting them between other different questions that you ask.
Your duplicates will eventually merge into your question.
But they are merging to your main question and making it stronger both on Quora and Google so there is nothing lost.
When they do merge unmerge them a couple of times.
Keep sending answer requests to get new answers.
All the answers and juice will pass eventually to your main question.
This will give you a very strong question on Quora.
A question that ranks on Google and hopefully if you are a Partner Program member a legitimate paying question.
A question that cannot then be merged to another because you covered all the bases.
 How To Avoid Question Merges On Quora? Click To Tweet
That's all for now.
So are you a Quora member?
Have you ever had your questions merged?
Are you in the Partner Program?
Let us know in the comments section below.
When you comment make sure that you subscribe to the comments so you are notified when we reply.
And you can always follow us on Quora as well
Regards Dexter
Related Articles
Summary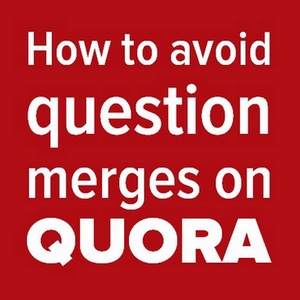 Article Name
How To Avoid Question Merges On Quora?
Description
In this new article, we are talking about the Q&A site Quora and digging into merged questions, what they are and how to avoid question merges on Quora.
Author
Publisher Name
Publisher Logo