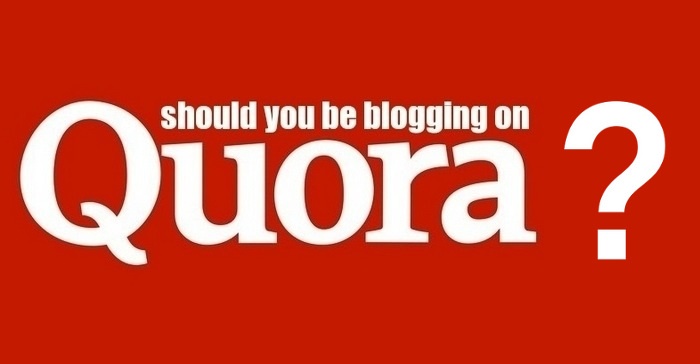 Quora is a great question and answers social site. It also has a very useful blogging section that allows you to create a blog and start blogging. The big question is…
Is Quora a good blogging social – Should you be blogging on Quora?
There are two answers that need consideration when you ask this question because Yes you definitely should be blogging on Quora and No you should not be blogging on Quora or in fact any blogging social. 
Let me explain more
Should you be blogging on Quora? YES
Yes, absolutely. Providing that your Quora blog is a promotional blog for your main event. If you are serious about blogging. If you are going to put your life and soul into your blog then there is only one way to go and that is self-hosted. You should be buying a domain name to create a brand and setting up your own self-hosted blog site. A WordPress would be perfect. And then you should be using your Quora blog to create cut-downs and quick turn around content to bring members to your blog. Put yourself in control of your content. If you then in some way fall foul to Quora's Terms of Service then all is not lost. Your WordPress is still very much alive and kicking.
Should you be blogging on Quora? NO
There are a number of social sites that let you blog and they all offer value to the user. Some more so than others. The question you really need to consider is, "my content, is it safe on these sites?" and unfortunately the question is no. When you create content on a blogging social like Niume and Steemit and in fact Quora you are not in control on what you produce. You can spend a long time creating and find that a moderator on the site for some reason doesn't like what you create. And you then find it is removed or worse still you find your account locked and suspended. And unfortunately there is nothing you can really do and your work is lost. So if you are going to put effort into Quora or any blogging social then think long and hard.
Everything you do on blogging socials and in fact social media should be geared to support your main event. They should be set up to drive traffic to your main blog in the same way that my Steemit and my Quora drives traffic right here on Infobunny. Here is an example of how I am using Quora to bring traffic to Infobunny.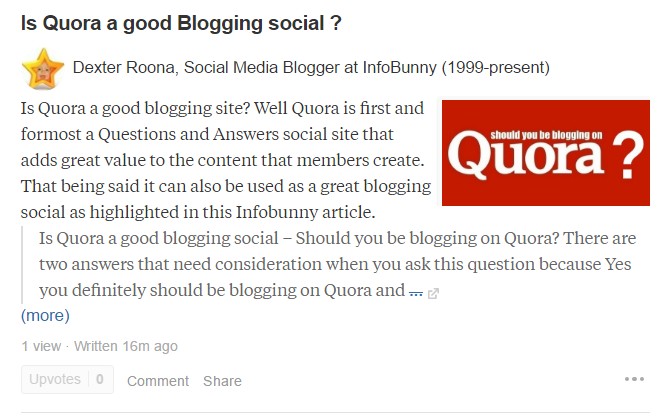 So for Infobunny, yes Quora is a great blogging social. The question now is how do you SEO your Quora blogs?.
Related articles across the web