LETS LOOK AT SOME SOCIAL MEDIA GROWTH STATISTICS

Facebook was Founded in 2004 and it took 852 days to reach 10 million users and now hosts over 1.2 billion users.

Next came Twitter which was founded in 2006. It took Twitter just 780 days to reach 10 million users.

Google Plus Founded in 2011 and took just 16 DAYS to reach 10 million users. Ok yes Google did have other platforms out there to aid the growth but in just 16 days, that is still absolutely incredible.

As you can see social media sites grow exponentially so can you imagine the possible rewards from being a partner on a new platform that paid social media rewards to members, well that is social media opportunity we have with iQKonnect.

 





Lets Draw Some More Social Media Comparisons
Instagram is an online photo sharing , video sharing social network service, it allows members to take pictures and videos and apply digital filters and then share the results on social media sites. Instagram was launched in October 2010 and then acquired by Facebook in April 2012. Not even 2 years after its initial launch Instagram was purchased for 1Billion US Dollars in cash and stocks.
Snapchat launched in the middle of 2011, Facebook has dangled offers of 3 billion in cash to tempt Snapchat the owner of Snapchat but no deal has been struck yet.
WhatsApp, Facebook agreed to buy WhatsApp for 19 Billion in cash and stocks, a block buster deal that smashes sky high prices that other start ups have been able to command.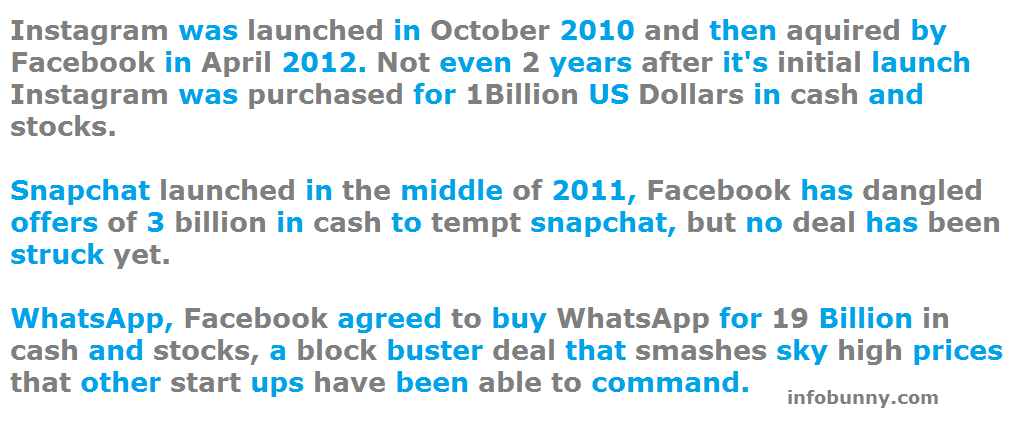 Will iQKonnect Be The Next Big Player?
The big difference between these apps and iQKonnect is that the rewards are not be in the hands of one founder but will be shared among all partners and that is you and i, the examples above show you just how big the iQKonnect opportunity can be and why it is important to get positioned now
You can be part of the base of what can become a 10 million user site in 1 , 2, 5 years time.
iQKonnect is open to every country payment can be taken right now, so don't wait join us on iQKonnect right now and tell all your friends. Take Action Today
FOR MORE INFORMATION ON

iQKonnect

PLEASE REFER TO MY ARTICLE HERE