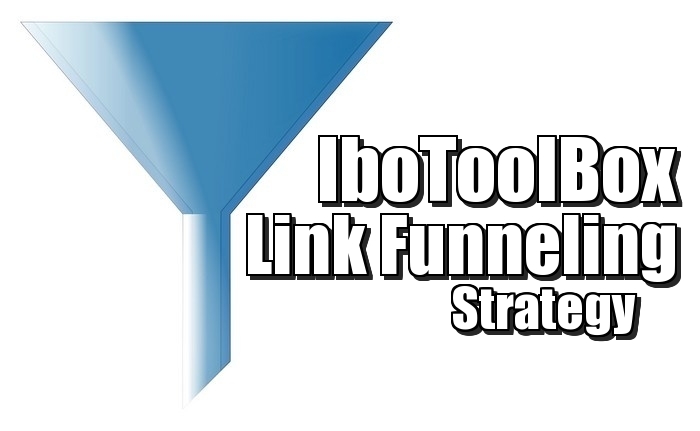 UPDATE 9/12/2016

IboToolBox has now closed the do follow loophole on their site and moved all links to no follow. Ibo still remains an incredibly useful site for click through traffic. Your activity drives engagement and also earns you free ad credits. You can read more about IboToolBox here IboToolBox Free Social Media Business Resources
My Simple Link Funneling Strategy
Ok, soi have come up with a link funneling backlinking strategy. But before we delve into this new strategy we first need to outline what exactly backlinking is. The different types of backlinks available and their impact on your site or opportunity.

Backlinking Explained
So what is a backlink or backlinking? 
The easiest way to think of a backlink is as a vote for your site. And the more votes for your site the better your site will rank. 
Backlinking is a fundamental SEO strategy where you build backlinks (votes) to raise your site in the SERPs.
A backlink is not just a positive vote. It is as the name suggests a linkback to your site or a page that enables search engine spiders to discover you.
There are 2 types of backlink, a do follow  and a no follow.
When the Google Bot comes across a do follow link the search bot as suggested follows the link and goes to the destination.If the link is no-followed then instead of following it to the destination it stays right where it is.
So We Want To Build Do Follow BackLinks?
Well yes and no it is really more complex than that.
Yes, we definitely want to build do follow backlinks but we also want to build no follow backlinks and here is why.
Google loves everything organic, it wants to see natural backlink building  without any manipulation on your part.
If you just concentrate on getting masses and masses of do follow links you will more than likely at some point get your site into trouble. Just having do follow backlinks is just not natural because do follow links are much harder to get than no follow because the majority of sites offer no follow links so for you to have masses of do follow links would be seen as unnatural backlinking and a red flag.
So Why Are There Different Types of Backlink?
Well to answer this question we need to first explain that do follow links are more valuable than no follow because a site that is giving do follow links is voting for you but not just voting but also sending link juice that builds your page rank, no follow links are away to link to content without giving rank. away.
So they would be used like this…. do follow links should be used to link to quality content, authority content if you like. Google likes us to link to quality.
Nofollow on the other hand is really just for navigation and click-through.
Let Me Ask You A Question
Which is better having 1000 do follow links or having a do follow linkback from a page rank 9 site?
The answer is the Page Rank 9 backlink is what you want because they are gold dust.
A page rank 9 backlink would be one of the biggest authority websites voting for you and that alone would significantly raise your rank and SERPs position, but the reality is you just don't really get back links like these.
In fact, the majority of do follow links do very little for you because they come from pages with no rank or authority and very little content, their main benefit is really to send the Google Bots to you.
So Why Do We Need No Follow Links?
We need no follow links to balance out and look natural to Google and to provide navigation. If masses of do follow links are attained then because they are much harder to get Google starts to look at us and question our strategies but if we also have a good level of no follow links then we are balanced out and our link building is natural.
And don't forget a link is a link if it is clicked then someone visits your site.
My DoFollow Link Funneling Strategy
Do Follow backlinks are hard to find and when we do find them they are often zero page rank and offer not very much more than no follow links, how ever there are sites that do give do follow links and one of them is IboToolBox.
For those of you who have not heard of IboToolBox, well it is a business social site, that offers some very useful free marketing resources. It is particularly useful to new marketers, but what is interesting about IboToolBox is that it is pretty much a do follow site and what is also very interesting is that you can build quite a comprehensive content rich profile page on IboSocial.
I have already written an article about the merits of IboToolBox and IboSocial.

IboToolBox Free Social Media Business Resources so you may want to give that article a read.
So Let's Delve Into My Link Funneling The Strategy
Every time you comment on a Press Release or an Article on IboToolBox your username is dropped on the page and that links back to your profile page and your profile page is linking out to your business or blog or your money site. 
This is where we start to become clever. We have already established that a do follow link to your site is a vote for your site and the higher the rank of the site linking to you the better.
Well that's think about this for a second. Thousands of IboToolBox members are posting Press Releases on a daily basis and commenting on these posts gives you a link back to your profile. Effectively you are voting for your page with your engagement. Suddenly your profile link is getting votes. Your profile link is getting juice from internal pages and so making your profile link a much more valuable do follow link to your opportunities.
Think of this as internal link funneling.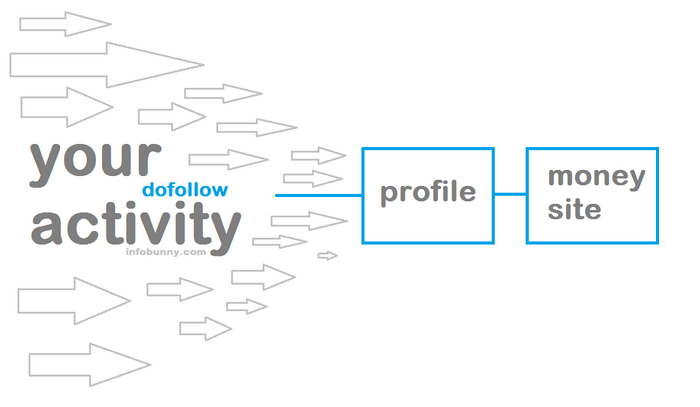 For a long time, it has been a SEO strategy to backlink your backlink,s to make your backlinks more important….. but that strategy to me has always seemed been a bit on the risky side as you are attempting to manipulate your rank with unnatural backlinks.
With my IboToolBox Internal Link Funneling strategy all, we are doing is being 100% engaging and natural.
And here are 3 more sites that you can use this link funneling strategy on.
Share this article to unlock this content.
[sociallocker id="4610″]
Behance.com Pr7
BigTent.com Pr6
8Tracks.com Pr6
[/sociallocker]
If you have found this article useful or you have any questions then please leave a comment below.
To your continued success!
regards Dexter Roona 
Related articles