Google Plus – Simple Guide To Formatting Your Google Plus Posts
If you are looking for lots of engagement to your all your Google Plus social media posts, +1s, comments and reshares, then its is really important to make your content as interesting as possible to grab the attention of your Google Plus Followers.
We have already spoken about how important it is to use images in a striking, attention grabbing way. Now it is time to explore how to Format the text you add to your posts.
We are limited to 3 text formats.
BOLD
ITALICS
AND STRIKETHROUGH
To make your text BOLD you simply use Asterisk's either side of the words you want to bold the word BOLD then you add in *BOLD*
For ITALICS  you add in underscores either side of the words so it would look like this _ITALICS_.
And finally for STRIKETHROUGH you use the – either side, so it looks like -STRIKETHROUGH-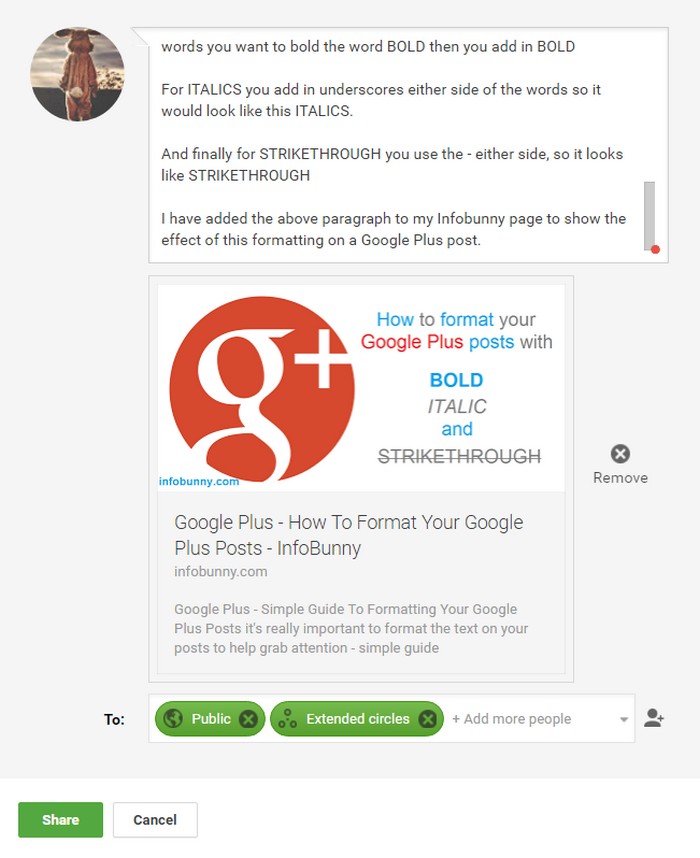 I have added the above paragraph to my Infobunny page to show the effect of this formatting on a Google Plus post. You can see the results below.
Related articles across the web