Google Plus – Guide To Google Plus Communities
Google Plus Communities are large groups of Google Plus members who all share an interest around a common theme.
The theme can be anything the creator wants it to be, in my case, i am the owner of the Google Plus Engagement Community.
In this community we share a common goal and that goal is to bring engagement and interaction between members posts. 
People use the community looking to get +1's (likes), comments and re-shares and that is exactly what they get because the members are looking for the same thing.

It is a reciprocal relationship community where you share and comment on member content and the members engage with what you are offering.

A great way to get started with communities is just to search for communities about something that interests you.

Go to your home page or profile page and on the drop down menu on the left select communities and you will be taken to a page that will look something like this below.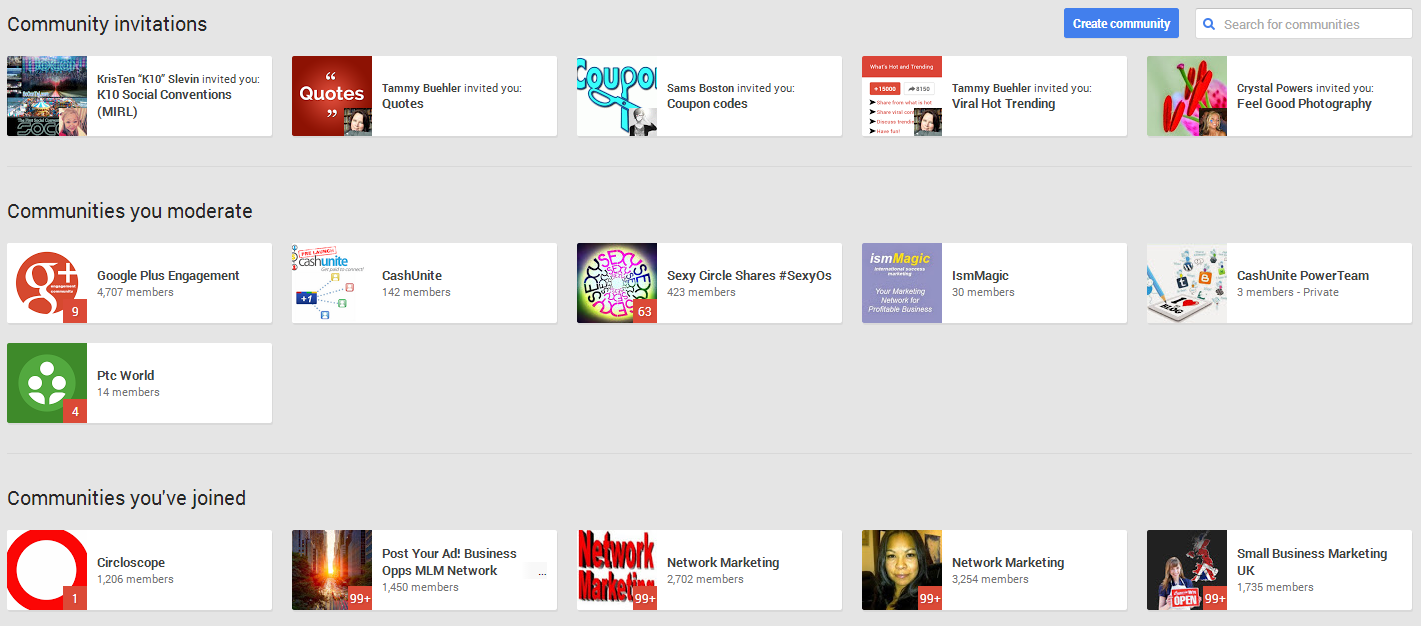 The screen is broken down into 3 sections 
Community Invitations ( Communities that other members have sent you an invitation to join)

Communities You Moderate

Communities You Have Joined
To find communities that you may want to join just type in some keywords in the search box top right of the communities page, click return and review the results.
Then join or request to join the communities that you are interested in.
Once you find some communities that you are interested in i recommend that you start to circle the most engaging members because these are the members who are interested in the same topic as you are, they are niche targeted members. 
This is particularly useful if your in a community about making money online for example, your looking to make money online or have a business or opportunity to sell and here you have a community full of members who are looking to make money online, that is a pretty useful community for you to be a member of so circle the most active members in relevant circles you create. You will then also see what content they post on your main home page feed, for you to engage with if you wish
Please refer back to my Google Plus post on Circles, Communities and Pages for more information on how to set up your circles.
Creating A Google Plus Community 
With Communities, you can create Private Communities or Public Communities.
Private Communities

 – These communities that you create for an exclusive group of permitted people. As the creator, you can mark these to not be searchable within Google Plus or you can allow them to be searchable. Members must ask to join to be a part of the community. 

Public Communities

 – These communities that are open to the public. These communities are searchable within Google Plus search.  As a creator, you can leave the community open for anyone to join or you can set it so that users must request to join and be approved before they can contribute to the community.
To create your own community, go to the Google Plus Main Communities Page then click the blue "Create Community" button on the upper right of the page. Follow the screen prompts to create your community.
Hope this article has given you a better understanding of Google Plus Communities, if you have questions then please comment them below
To your continued success
Regards Dexter Roona