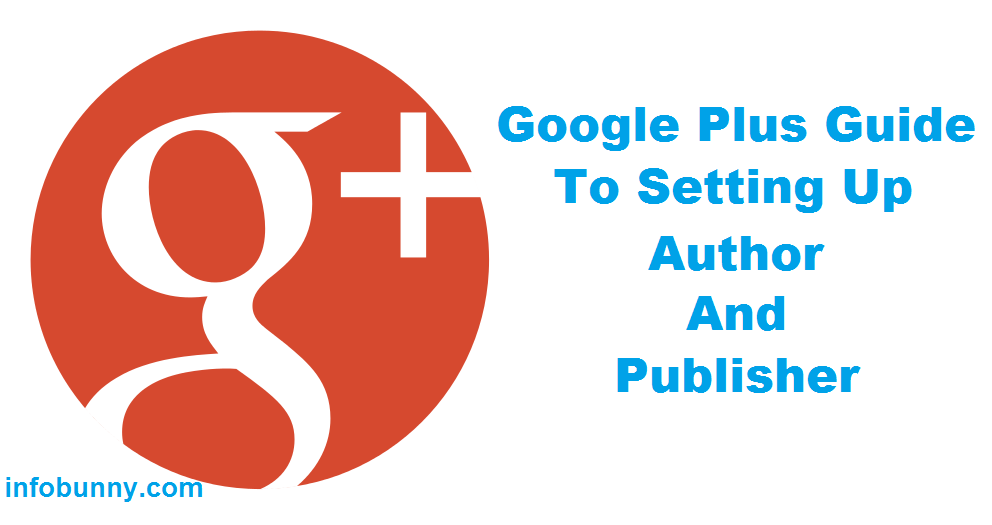 Are you receiving the Google Authorship  and Publisher Credit you deserve for the articles and blogs that you post?
Do you even know what Author and Publisher Markup is and how it impacts your content?
Well with this Infobunny article we will be answering those questions along with helping you to set up both Google Authorship and Publisher for your sites.
So Lets Start With The Differences Between Author And Publisher
Google Authorship is a way to link your content to you as the Author. Publisher is way to link content to you as the Publisher. Take a look at this Infographic that i produced for this article
Authorship applies to any blog article or post that you write. The key word in that sentence is ANY, even if your guest blogging on another bloggers site you can still claim the credit on the content.
Publisher refers more to the site you add the content to rather than the content itself, so again if your guest blogging you can claim authorship and the blog site owner can claim the publisher markup and of course you can be both the Author and Publisher of your content if your the owner of the blog site you post to
So How Does Authorship and Publisher Benefit Our Content?
Author and Publisher Markup provides those searching and finding your content with a small thumbnail image that appears in the search results. This will result in:
Improved click-through rates on your content.
Establish credibility and legitimacy to your content and your name.
Garner authorship recognition and exposure.
Improved search engine result page rankings with Google Author Rank.
Please make a note of the last Bullet Point, Google Author Rank, the more posts that you apply Author to the better your Author Rank, and that is one of the reasons why guest blogging is so popular. Look at it this way if your invited to write for an established ranking blog site then it is not going to do you any harm if you then have Author Credit on the articles that you post on that site.
Author Rank helps you establish yourself as a trusted author, the result is your content gets more baclinks from other bloggers in your niche and people start following what you do and what you say, this gives you traction and your ranked higher in the Google search index.
There's also speculative research that suggests being an established author boosts your initial rankings before it even receives any attention at all. The idea being, Google may use data gathered via authorship to develop trust and authority scores that could affect your content's search rankings. Would you like to post an article and it just indexes and slots straight into a top spot? It is what we all want as bloggers and content creators.
Getting Started With Google Authorship And Publisher
To get started you first need to establish a Google Plus Profile, login to your Google Account and then go here http://plus.google.com/ to set up your page. You will see a screen similar to this, just click upgrade and fill in your details.
If you already have a Google Plus Account then your all set to go already, you can checkout my Google Plus Complete Guide And Tutorial HERE
One point to note, to get your thumbnail image to appear in the search results you MUST add a head shot of yourself, you will then get Authorship results, after you have applied the relevant markup..
Setting Up Google Authorship And Publisher
There are a few ways to establish your Authorship and Publisher for your blogs, from simple email verification to adding html to your posts and sites to using plugins to establish connection.
Probably the easiest way to add Authorship to your blogs is to use Email Verification. To use this method you must have a email address that corresponds directly to your site. In other words, you are a contributor or owner in my case infobunny.com and you have an email address (or can get an email address) that uses infobunny.com such as dexterroona@infobunny.com. When you have this in place just head over to https://plus.google.com/authorship and sign up for Authorship you will then be emailed a link to verify your authorship and a contributor link is then added to your about me page to establish the link.
Please note all of your content on your site needs to have the byline "By Your Name" where "Your Name" matches your name exactly on your Google Plus profile.
You can then check that Authorship is working by heading over to the Rich Snippets Tool just add in an article link and hit return and review the results, you should see something similar to this.
Another way to establish the link between your Google Plus Page and your Blog site is to use the rel="author" and rel="publisher" markup. This is a great method for claiming Author and Publisher on blog sites that you don't own for example i use this method on blog articles that i post on IboToolbox
Here is how it is done
In your content, add in a line at the front or end of your article like Author – "Your Name" and then below that one for Publisher – "Your Name"
Now add a link to "Your Name" and link it to your Google Plus profile. Be sure to include rel="author" for Author and rel="publisher" for Publisher
The links you add should look like this
https://plus.google.com/[youridhere]?rel=author

https://plus.google.com/[youridhere]?rel=publisher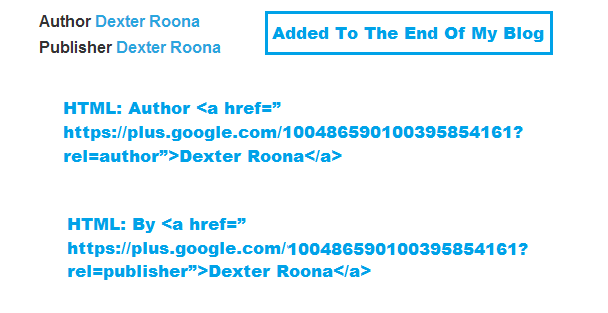 Finally you must add a link in the contributor section of your About Me page on Google Plus so that it links back to your blog site to complete the connection. 

What i like about this method is that you can really apply it to any site that accepts html code and so claim author and publisher from lots of different websites.
Another method of setting up author and publisher is to add the code in as a meta tag into the header so it then works on all pages. There are a couple of ways to do this. You can add in the code to your template or you can use a plugin to make the required connection.
There are lots of WordPress plugins that enable you to do this on WordPress, im using  WordPress SEO plugin by Joost de Valk to achieve this and to also look after my seo requirements.
WordPress also allows multiple authors on your sites, which allows for guest writers.
How To Verify Your Author and Publisher Are Working
So we have done all the hard work now it is time to test it all works and that is really very simple. Google provides us with a very useful tool and all you have to do is input the link to your article and click return. Go to the Rich Snippet Tool and you should see results like these below.
Position 2 is one of my blog posts that has a YouTube video within the article and my seo plugin is able to generate a video snippet image . Having these images appear in your search results, really makes you standout, the more they appear the more your seen and recognised.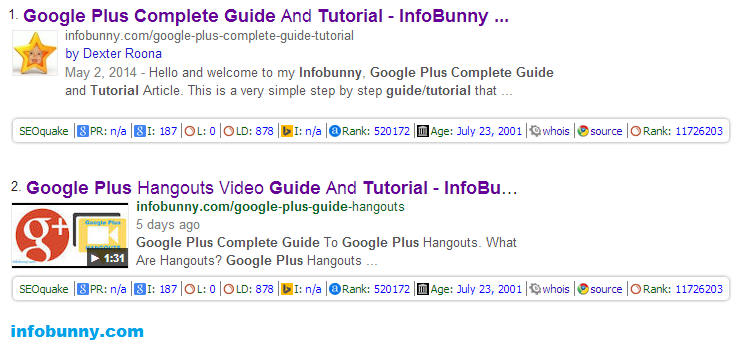 Conclusion
If your blogging or writing articles you obviously want them to be seen and read so Google Authorship and Publisher are an absolute must to get better results, and to build credibility, legitimacy and brand awareness and to build your Author Rank.
The chances are that if your active on multiple sites then you will be implementing more than one of the methods of connection highlighted in this article, because for example you can't use the email method, the easiest method on Tumblr or LiveJournal but you can on your self hosted wordpress. For me the best method is to add in the code to the template manually or via a plugin and for sites where you can't do this you just add the code to the start or the end of individual posts.
And finally there is one last point to note, it is not good practice to add Author to your sites Homepage use Publisher for the Homepage, because the site is the Publisher, and keep Author for pages and posts. If you add author to your Homepage Google could well see this as trying to gain credit from posts that have already been credited because the homepage often has snippets of your articles that have already been credited.
Hope this has helped with your understanding of how Google Author and Publisher works.
To your continued success!
Regards Dexter Roona