My Favorite Content Curation Sites
To build your brand and online presence on the internet you must be active on social media, and on the best content curation sites and social bookmarking sites.
In this article, i will be giving you some of the best content curation sites that I use to promote to expand my social media exposure and build my brand. But before we get to my Top 3 Content Curation sites we first need to understand what content curation is and why it is very important and very valuable for building your brand or business and just to help get you seen on Google, Bing and Yahoo.
Here is a great article by Beth Kanter that I found. Beth explains everything that you need to know about the art of content curation. Have a read and then I will see you on the other side with my 3 Favorite Content Curation Sites.
Content curation is the process of sorting through the vast amounts of infomation on the internet and presenting it in a meaningful and organized way around a specific theme.  The work  involves sifting, sorting, arranging, and publishing information.  A content curator cherry picks the best content that is important and relevant to share with their community. It isn't unlike what a museum curator does to produce an exhibition. They identify the theme, they provide the context, they decide which paintings to hang on the wall, how they should be annotated, and how they should be displayed for the public.

Content curation is not about collecting links or being an information pack rat. It is more about putting them into a context with organization, annotation, and presentation. Content curators provide a customized, vetted selection of the best and most relevant resources on a very specific topic or theme.  As Rohit Bhargava points out  in this post via Robin Good, a content curator continually seeks,  makes sense of,  and shares the best and most relevant information on a particular topic online. Content curators have integrated this skill into their daily routine.

Why is Content Curation Valuable?

People and organizations are now making and sharing media and content all over the social internet. For example, on Facebook the average user creates 90 pieces of content each month.  If you multiply that by the 800 million Facebook users, it isn't surprising that data or content on the Internet is measured in exabytes, or billions of gigabytes. Simply put, we are living an era of content abundance. A content curator offers high value to anyone looking for quality content because finding that information (and making sense of it) requires more and more time, attention, and focus.
My Top 3 Content Curation Sites
The first curation site i would like to share with you is
Bag The Web
Bag The Web is a great curation site. You can curate all your content to and save into Bags (Folder Pages). When you share to Bag The Web the curated content takes the headline title and snippet of the post and then links back to the original post. You can add an image to the content that you curate, choose to have the content Public, Private or Unlisted and have the ability to social share any bags you create. Bag The Web is one of my favorite curation sites. 
Here is a screen capture of my Bag The Web 8App bag where i curate all the articles that i write promoting The8App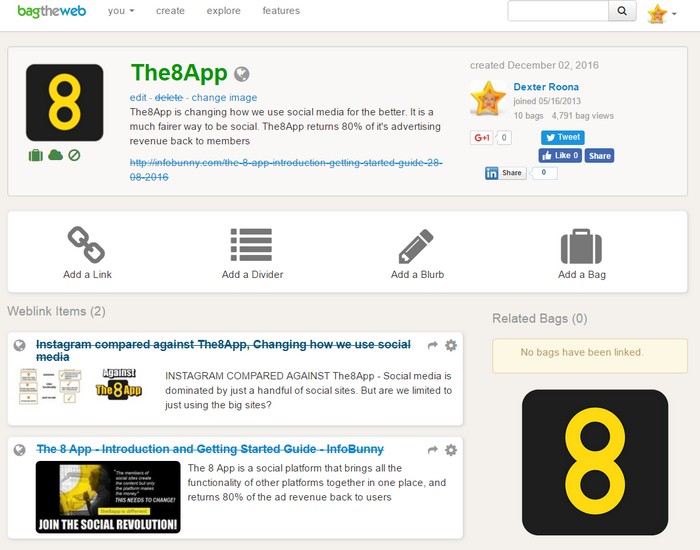 Scoop.it
The next curation site that I am going to curate into this article is a very popular curation site, called Scoop.it. This site like the others provides a profile page and allows you to curate into different page folders. You can also multi-share to your social media channels. Facebook, Twitter and LinkedIn are the main supported social media sites. The standout curation feature for me of this curation site is the ability to curate YouTube Videos.
The image below shows the Scoop.it share page with the social sharing options.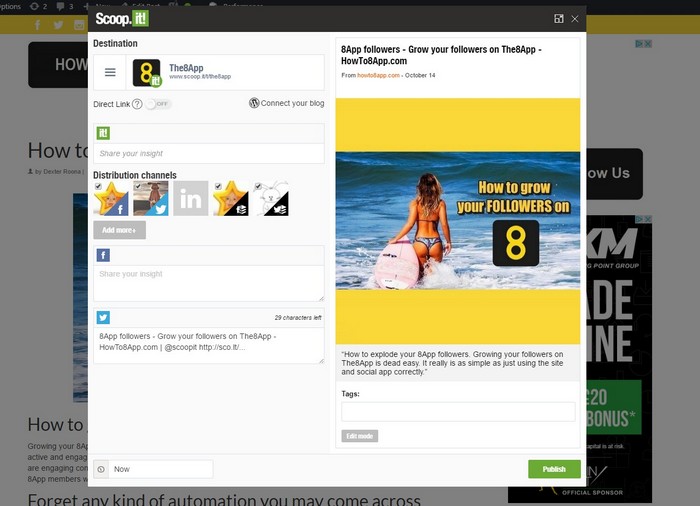 Storify – Make the web tell a story
Storify is a social media curation tool that lets you create stories or timelines from a variety of social media resources like Facebook, Twitter and The8App, as well as other web resources. You can use it to pull together information on whatever you want and can customize it how you want. Then share your story on the site with your friends on those social media sites. 
The screen capture below shows the share window when you click the Storify button on your browser.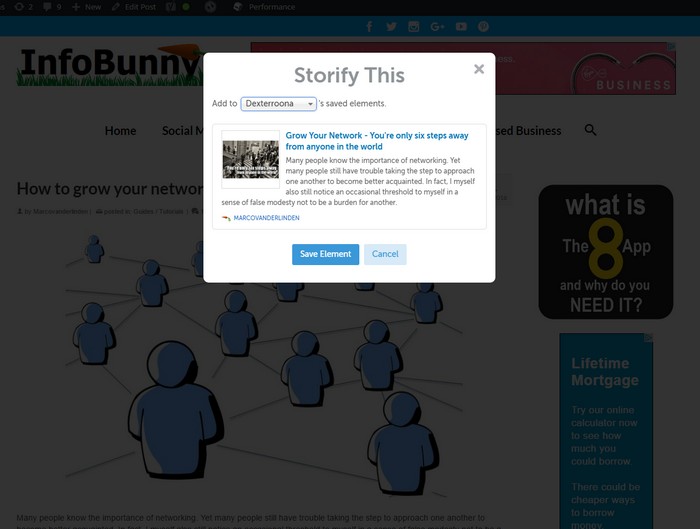 Best Of The Rest
PearlTrees is a good curation site to checkout, also take a look at Listly and is also very good.
Conclusion
As you can see Content Curation is a great way to become an authority on any topic or any niche you wish. From cats to dogs to the latest sports cars. I have personally have had great success using content curation to build my social brand. You can sift through vast amounts of content at your own pace. And just save the best bits for you and your network.
The easiest and way that I have found to curate to curation sites is to add a site Google Chrome Extention to my Chrome Browser. Then its the simple task of just clicking the extension button and its done. If you don't use Chrome then Firefox is equally as good for setting up content curation buttons.
Just curate your content to curation sites, build backlinks and grow your niche authority. 
Thanks for reading my Best Content Curation Sites Blog, hope you have found the information useful. 
To your continued Success
Dexter Roona